Three great ID & security pubs free to Contactless News subscribers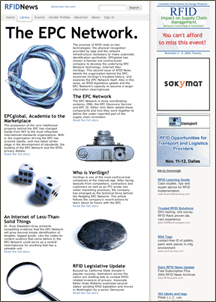 In addition to Contactless News, AVISIAN Inc. produces three other ID technology publications. Secure ID News focuses on the use of identification technologies in government and corporate credentialing. CR80 News covers the use of all types of identification technologies in closed systems such as college and corporate campuses. And RFID News explores the emerging use of radio frequency tags in an array of logistics and related environments.
More and more, topics covered in one publication are crossing the lines and creating interest among subscribers to our other publications. I would like to take this opportunity to invite you to explore our other vehicles and, if you like them, subscribe for free to any or all of them.
We have added the ability to "manage your subscription" thus enabling you to easily take advantage of this free offer. To do so, click on the link at the bottom of the email that you received announcing this issue of Contactless News. The link says "Unsubscribe / Change Profile Here." Take a moment to make sure that we have your information correct and select any additional publications that you would like to receive. It is as easy as that. You will begin receiving your new subscriptions immediately.
Also, pay attention to the "Related Articles" section on the front page of ContactlessNews.com. It shows the latest feature articles posted to our sites. It is a great way to keep up with the news from Contactless News' sister publications.
I hope you will take advantage of this free offer to help keep up-to-date with the entire spectrum of ID technology. Enjoy the additional content and thanks for allowing Contactless News and the other AVISIAN publications to keep you up-to-date with our fast paced industry.
Chris Corum, Executive Editor, Contactless News / AVISIAN Publications