'Three Ms' will dominate contactless payments industry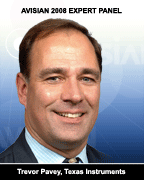 Trevor Pavey,
Contactless Payments Manager,
Texas Instruments
In the world of payments, contactless technology continues to make waves. With more than 20 million cards issued in the last year, more contactless payment devices in more consumers' hands, means a greater potential for more revenue.
More consumers, more devices, more revenue … these trends will continue in 2008, but we expect the contactless payments market to be dominated by three other "Ms" as well – merchants, mobile payments and multi-applications. In these areas, we'll see new merchant categories and merchant education of consumers, cards that carry multi-applications like payment and transit, and more NFC trials and progress on the path to developing the business case for NFC-enabled mobile payments.
More merchant categories: In 2007, PETCO and Office Depot announced chain-wide rollouts of contactless payment, expanding the reach of the technology into new merchant categories. The benefits of speed, convenience, and increased sales, as well as the coolness factor of the technology, will continue to propel its acceptance by different types of retailers next year.
Consumer education drives greater adoption: While some banks and many card networks have led the charge to educate consumers about contactless payment technology and its benefits, we expect to see more merchant involvement next year. In its October 2007 research, "Cashing in on Contactless," Aberdeen Group cites lack of consumer awareness as a leading concern among retailers. And even though retailers have adopted contactless payment and cite greater customer satisfaction and increased sales, they don't promote the programs, according to Aberdeen. This will start to change in 2008 as retailers do more to not only let their customers know that "contactless payment is accepted here," but begin rewarding them for using it.
Precursor to NFC: Although research suggests many retailers are not yet aware of Near-Field Communication (NFC) or even the concept of being able to use a mobile phone to initiate a payment transaction, those accepting contactless cards at the point of sale today will be ready for consumers using NFC-enabled phones to pay with no incremental investment in POS infrastructure. Still in pilot mode, NFC-enabled mobile phones are an exciting form factor that will gain traction with consumers. Those retailers who accept and promote the greater value of contactless will be better positioned to reap the benefits of consumer mobile phone payment.
Contactless payment moving to multi-applications: 2007 saw the emergence of the multi-application contactless card in London as contactless payment, standard chip and PIN (EMV) and transit functionality converged on one card from a leading bank. We may see similar initiatives launched in the U.S. as merchants, banks and transit authorities take advantage of a common payment/transit multi-application form factor.
In 2008, we'll continue to see worldwide growth in contactless payment in its various forms – cards, fobs and the mobile phone. The technology is a good fit for consumers who seek speed and convenience in an increasingly mobile world. We expect the wider availability of contactless technology from banks and merchants, and the greater convenience of multi-applications on one card and payment by mobile phone to drive more consumer usage.
---
About the AVISIAN Publishing Expert Panel
At the close of each year, AVISIAN Publishing's editorial team selects a group of key leaders from various sectors of the ID technology market to serve as Expert Panelists. Each individual is asked to share their unique insight into what lies ahead. During the month of December, these panelist's predictions are published daily at the appropriate title within the AVISIAN suite of ID technology publications: SecureIDNews.com, ContactlessNews.com, CR80News.com, RFIDNews.org, FIPS201.com, NFCNews.com, ThirdFactor.com, and DigitalIDNews.com.