Todos demos iPhone app for online authentication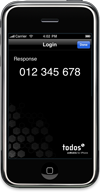 Todos's iPhone application, forthcoming Android application and updated onMobile Java MIDP technology give banks a solutions for user authentication and transaction verification using mobile phones.
Todos onMobile portfolio adds context, informed consent and risk perception in the form of Todos's unique technology: Dynamic Signatures using Sign-what-you-see and Secure Domain Separation.
Dynamic Signatures enables a bank to adjust the level of security according to the riskiness and value of the transaction. Sign-what-you-see confirms key details of a transaction with a user on their mobile phone screen before they sign it. Secure Domain Separation gives e-commerce, banking, digital signatures and one-time passwords their own secure channel.
To use the system a users simply press the 'Login' button – no abstract shapes or hard-to-remember key sequences. Todos's onMobile portfolio uses the Todos eCode system, which includes the ability to give each user the ability to use several different devices at the same time. So, for example, they can use their iPhone while traveling but a smart card reader in the office.
Todos onMobile for iPhone and iPod Touch is being demonstrated at Todos's stand at Cartes 2009 in Paris along side with all other Todos products. onMobile is already available as a Java MIDP application on all major models and, in Q3 2010, on the Android platform.