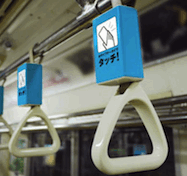 Japanese advertising company Shunkosha has introduced a new campaign on the Tokyo subway that uses NFC-enabled strap covers to deliver content to riders.
Tokyo's NFC phone users can tap the boxy blue covers, dubbed Strappy, to instantly launch advertisements on their phone's web browser. According to CNet, the covers are equipped with FeliCa NFC technology, which is already widely used on public transport in Japan.
The Strappy project has been active since mid-May on several high traffic subway lines. Network coverage has been provided by carriers NTT DoCoMo, KDDI, and Softbank, who are currently installing antennae throughout Tokyo's subway tunnels.
Read more here.