Total security solution must include ID convergence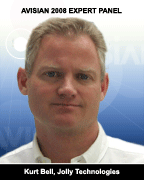 Kurt Bell,
VP Sales & Marketing,
Jolly Technologies
The most meaningful trend I see in ID is that of convergence. The ID card is increasingly becoming an integral component of a larger integrated security environment. At one time, an identification card existed on its unique little island. It was produced by a stand-alone system and used independently. "This is me, I belong here…" In such a system, the card was used for little more than a visual check.
We hear a lot of talk about the latest RF, smart chip, contactless systems when we discuss card technology. Whichever of these is implemented is largely irrelevant, except as a means of interfacing the "this is me" to the larger security system. It is the system in which the card is utilized (and produced) that is becoming far more significant than the card technology itself.
The larger security system consists of access control, video monitoring, asset tracking, time and attendance, background checks and visitor management, along with a photo ID. Therefore, it is only logical that the production and production control of the ID card be part of that larger system.
The core of security is simply the ability to prevent harmful threats and to nullify them when they occur. From a technology standpoint, the delivery of relevant information is the most critical factor in the success or failure of that operation.
For that reason, ID card production must be part of the larger data network that comprises the integrated security information system. Any breaks in the line between production and use are vulnerabilities that will potentially be exploited. When incidents occur, knowing a cardholder's full history is important–where a person had access, where he or she had been, who issued the card when and where–becomes highly relevant.
We will see an increasing emphasis on integration, on technologies that work together, and on their abilities to share data between systems. More importantly, we'll need to know how these products can be integrated into sister products. We will see more convergence of access control and time and attendance, of visitor management, background screening and equipment tracking, and, of course, in IDs.
We will see systems brought together that provide information when it is needed most. That is usually "right now."
Effective ID systems will need to have the capability to interface with other components and become an integrated piece of the total solution.
---
About the AVISIAN Publishing Expert Panel
At the close of each year, AVISIAN Publishing's editorial team selects a group of key leaders from various sectors of the ID technology market to serve as Expert Panelists. Each individual is asked to share their unique insight into what lies ahead. During the month of December, these panelist's predictions are published daily at the appropriate title within the AVISIAN suite of ID technology publications: SecureIDNews.com, ContactlessNews.com, CR80News.com, RFIDNews.org, FIPS201.com, NFCNews.com, ThirdFactor.com, and DigitalIDNews.com.