Touch, BERG use LED lights to visualize RFID fields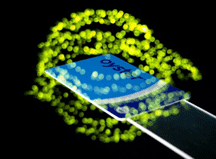 Oslo's NFC research team Touch has once again teamed up with London design firm BERG to create visual representations of RFID fields using LED lights.
The project was created and carried out by Jack Schulze and Timo Arnall, who made specially designed LED probes that light up in the presence of an RFID field. The resulting long exposure photographs show patterns of surprising depth and shape.
Shulze and Arnall developed the project as a way of elucidating the "magic" of RFID's invisible wireless communication, which they feel is widely misunderstood and in some cases mistrusted. The researchers hope that by seeing the functionality of RFID, more designers will be inspired to to work in the field.
Read more here