Toyota sees safety and savings in Camry plant
Maintenance and paperwork reductions add to benefits
By Marisa Torrieri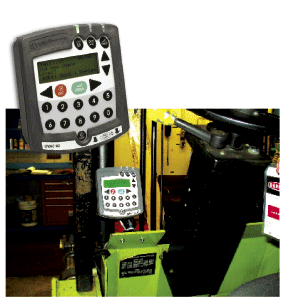 When the fleet you manage runs on an indoor landscape spanning 220 acres, it's hard to keep track of who's running what equipment. And if you have contractors from other companies working on the weekends, you might have no way of guaranteeing they have the OSHA-approved training required to operate your vehicles.
These were burning concerns two years ago at Toyota Motor Manufacturing in Georgetown, Ky., says Rick Noe, the group leader in forklift maintenance of the plant that builds the Camry and other models. Should these drivers get into a serious accident, Toyota could be slapped with an OSHA citation or worse, Noe says, adding that it was not unusual to see the entire carriage torn off a forklift, and have no idea who was responsible.
Over the last year such headaches have lessened significantly since Noe contracted with Hackensack, N.J.-based I.D. Systems to install an RFID system for that facility. Now, with a badge reader on the equipment, "if they're not trained they can't operate it," says Noe.
Since implementing the RFID system (so far 440 pieces of equipment are tagged), Toyota Georgetown has cut its fleet of 580 forklifts and tuggers (including 38 rentals) by 16. The immediate benefit is eliminating the cost of preventive maintenance that goes with ownership (the most basic 200-hour check starts at $70), as well as insurance and replacement costs. The 200 hour mark is no longer figured by how many hours the plant is open, rather, it's now based on the exact number of hours the lifts are used.
"This frees maintenance workers to focus on high-use equipment, so resources are applied better," says Gregory B. Smith, I.D. Systems' director of corporate communications.
According to Smith, I.D. Systems customers run the gamut of industries (Hallmark, U.S. Postal Service, Ford Motor Company). But its core clients are fleet managers of material-handling vehicles, like Toyota's Noe, who are in charge of equipment that needs to be tracked by the Wireless Asset management system (WAN).
Another immediate benefit is less paperwork. Noe's staff used to use a paper sheet for the daily performance check and Noe would spend hours reviewing check sheets. Now the check is done electronically.
Noe also says he hopes to use the RFID system to maximize productivity of routes. "It's inefficient if you have a forklift that has to go across the plant when you already have a lower utilized truck on the other side of the plant," he says.
How it works
I.D. Systems refers to WAN as a "collective" wireless fleet management system, which uses "gateways" (computer "readers" with RFID transceivers, network cards and IP addresses on the local area network that process and store data and execute programmable actions based on that data). The data comes from Vehicle Asset Communicators, or VACs (though similar to tags, Smith says it is not accurate to simply call them "tags"). In addition to flowing from readers to tags, data also flows two ways between the gateways and a central system database.
The technology operates on a single channel in the 902-928 MHz band. Most other RFID systems are spread-spectrum systems, which are more costly because they have to handle large amounts of data, Smith says.
"A typical frequency might be 903.2," Smith explains. "We pick a frequency that is going to be out of the traffic of other [nearby companies'] systems operating in that same general band."
What distinguishes the Wireless Asset Net, says Smith, is that it's capable of "real-time visibility. I can pull up a map of the plant and see the truck," Noe says. "I don't have to look around."
Because the technology package consists of "distributed intelligence" architecture, in which data is stored in every VAC and every gateway, as well as in the database, there is no need to panic if the vehicle goes out of range: it's still going to record data, "so when the network comes back in range, it detects that and sends messages," Smith says. Distributed intelligence allows each node to execute programmable logic based on an end-user's business requirements.
Once the equipment is tagged, it never turns off: Internal combustion equipment (running off diesel or low-propane gas) is equipped with a small battery. When not in use, it goes into sleep mode, in which data is not actively transmitted. But it will wake up when somebody operates the vehicle.
The process of implementation
Noe's RFID system has been fully operable for about one year. The plant has a five-year lease after which Toyota will own the technology.
The cost of implementing the technology varies (think low-to-mid-six figures), depending on a company's individual equipment, training and support needs. For example, variables include the number of units tagged, how many software licenses are required and the accuracy of location-tracking requirements (you could have as few as one or more than 40 gateways, depending on your company's needs).
Noe estimates it will take three years to ROI (partly because he doesn't plan to lay off any employees). But future savings aren't the only reason he chose the technology. "It wasn't totally about return on investment," he says. "A lot of it was about the safety checks."
This article originally appeared in the premiere issue of RFID Operations.