Trinity Real Estate streamlines visitor access with HID software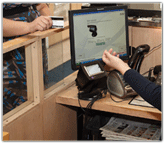 In an effort to streamline tenant control of visitor access at its commercial real estate properties in Manhattan, Trinity Real Estate has installed HID Global's EasyLobby Secure Visitor Management (SVM) software.
The software speeds up the clearance process for visitors to companies at Trinity's properties, which include modeling and film agencies and photography service providers that have a constant flow of visitors. Employees fill out a one-page entry form detailing the visitors' names, who they're seeing, where they're going and their arrival and departure dates and times.
Upon arrival at the building, the visitor checks in with a driver license, which is scanned and matched to the SVM's visitor request form. Once security validates the vistors' identity, the system prints a badge with a bar code and standard information that's used to access areas of the building beyond the lobby.
The system processes visitors in about 20 seconds. The SVM can also quickly manage repeat visitors by processing badges that expire within a given timeframe. The software also saves past visitor requests so if the guest returns, employees can recreate a request form more quickly.
Additional features of the software simplify lost badge replacement, invalidating old badges, checking with tenants if a guest attempts to use an expired visitor badge and monitoring the number of guests for emergency situations. Tenants can create watch lists of visitors who shouldn't be allowed into the building. The SVM also enables users to create reports to show visitor volume during specific time periods.