TTI handheld adds iCLASS support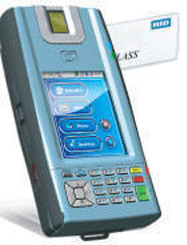 The Win CE-based handheld reader from TTI now handles iCLASS credentials from HID. The device can read/write to iCLASS and standard issue contact smart cards, read biometric fingerprint data, and enable for secure validation of cards. The built-in Secure Access Module (SAM) handles digital keys and the GSM/GPRS module provides mobile high-speed data transfer and voice calls.
TTI Incorporates iCLASS® into Handheld Terminal Product in Response to Increased Demand
Newport Beach, CA., December 4, 2006 – TTI is proud to announce that it has successfully integrated HID iCLASS technology into its ST5i handheld terminal product.
The ST5i is a state-of-the art mobile terminal designed for the new generation of chip-based ID cards, with the ability to read/write to HID iCLASS 13.56 MHz contactless smart cards and standard issue contact smart cards, read biometric fingerprint data, as well as to allow for secure validation and identification of an individual card holder.
The unique design of the ST5i caters to the most demanding of field operating conditions with its rugged exterior and long battery life. The built-in Secure Access Module (SAM) supports the use of digital keys for card schemes requiring high security, while the GSM/GPRS module provides mobility for high-speed data transfer and voice calls over mobile networks. With a TFT LCD panel, the ST5i provides a user-friendly touch screen interface for multiple applications on a Win CE platform.
The ST5i has been designed for use in applications where confirmation of an individual's identity is vital. These include high visibility applications such as: Government First Responder Programs, various law enforcement situations, health care environments, retail point-of-sale programs and local, state and national government security initiatives related to Homeland Security.
"As a leading manufacturer in the access control industry, HID has been the pioneer in the development of cutting-edge contactless card technologies such as iCLASS. With the incorporation of iCLASS into our ST5i terminal, TTI is looking forward to the unique benefits this card technology brings to us and our customers," said Chuck Weiglin, chief operating officer of TTI. "Demand for biometric-enabled handheld terminals, such as our ST5i is,at an all-time high. The strength of this product will only increase with the addition of iCLASS and the world of application solutions it allows."
"Many end-users are inquiring about the availability of handheld products to support new applications throughout the government, corporate and university environments", said Debra Spitler, executive vice president of HID Connect. "We are pleased that TTI recognized this need in the market and has chosen to support iCLASS in their product. We look forward to working with TTI as an HID Connect partner."
For more information on the ST5i terminal and other TTI products and services, please call 949-309-4049, or visit our web site at www.trijaycorp.com.
About TTI
Providing solutions to central & local government, corporate, retail, and security industries, Trijay Technologies International Corp. (TTI) combines proven biometric systems and secure identification technologies to satisfy any needed specific requirements. From OEM fingerprint modules, access control and T&A systems to complete national smart card, border and port security control and e-passport schemes, TTI's capabilities cover conception and design to implementation and complete customer service. TTI delivers some of the most technological and reliable identity management solutions available in the industry today. TTI focuses on strategies that are designed to manage costs, increase quality, mitigate risk, improve business agility, and strengthen security.
About HID Global
HID Global is a leading manufacturer in the access control industry, serving customers worldwide with proximity and contactless smart card technologies; central station managed access controllers; secure and custom card solutions; digital identity and photo card management software solutions; secure card issuance solutions; and RFID electromechanical cylinders. Headquartered in Irvine, California, HID Global operates international offices that support more than 100 countries and is an ASSA ABLOY Group company. To learn more, please visit www.hidcorp.com.