Turkcell launches new handset with NFC home shopping app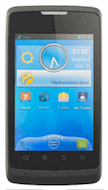 Turkcell, Turkey's largest mobile operator, has announced the launch of its new NFC-enabled T Series handset, the Turkcell MaxiPLUS5.
In addition to being a "more affordable" alternative to other NFC smart phones, the Android-based MaxiPLUS5 debuts Turkcells' new NFC-based Mobile Contactless Order system. Each handset will ship with an NFC-enabled refrigerator magnet that can be tapped to automatically launch the phone's Mobile Order application. From there, users can order a variety of online goods from participating suppliers directly from their mobile phone. According to Turkcell, the application is server based, so all product details can be changed over-the-air in real time.
The device also features a Mobile Assistant application that can search, find and answer questions such as invoice information, outstanding balance, weather conditions or the nearest pharmacy, while a new Smart Response application enables the device to change settings and receiving a call without pushing any buttons, among other functions.
Additionally, the device features the Turkcell TV application with more than 42 TV channels, as well as the Tunein radio application, which makes it possible to tune in to more than 50 thousands stations.
The device is equipped with the latest Android 4.0 operating system and features a 3.5 inch sensitive touch screen, 800MHz Qualcomm processor, 5 megapixel camera, and 8GB memory in addition to embedded NFC technology.
According to Turkcell, existing customers can upgrade to the handset starting at TRY5 ($2.75) a month.