Uganda to issue new identity cards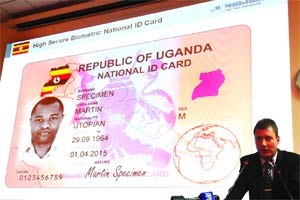 Mühlbauer Technology Group unveiled Uganda's new national ID card at Hotel Africana in Kampala yesterday.
The card is a result of the sh185b project which will grant the ID card first to new voters for the 2011 general elections, an estimated at 3.5 million people. Additionally registered voters totaling, 10.5 million citizens, will have their identity information updated and are expected to received their cards within the next two years.
The polycarbonate ID card will contain visible features such as a picture of the card holder, a signature, date of birth, sex, card number, date of expiry, a thumb print and the national flag with the map of Uganda. Invisible features include tribe, clan, village, parish, district, details of spouses, and child's information. Ministry of Internal Affairs is also looking to obtain Mühlbauer Technology's bio-metric voter registration system.
Concerns about the new technology and the group providing it have been raised by the media claiming that not only was the price of the project was highly inflated by Mühlbauer, but the bar code technology of the card was unsuitable and not compatible with other countries in the region and therefore vulnerable to future problems.
Read the full story here.
Image courtesy of New Vision Online.