GAO releases PC card in memory card format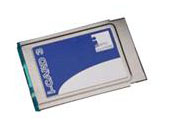 GAO RFID announced the release of its ultra-high frequency interrogator PC card, the model 227001, in a personal computer memory card format.
The card can be plugged into a laptop, handheld or mobile computer and comes with software for application development under Windows CE, 9x, NT, 2000, XP and Linux operating systems.
The PC card incorporates an anti-collision algorithm, allowing it to accurately transmit and receive information to and from up to 2,000 RFID tags within 100 meters. It offers digitally adjustable sensitivity with -85 dBm for high sensitivity and -55 dBm for low sensitivity.
The interrogator card minimizes employee involvement while maintain reliable performance of real time data collection in the identification, tracking and tracing, and localization of assets or people.