UK pharmacy test shows promise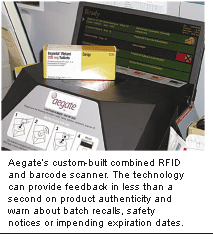 By Rhea Wessel, Contributing Editor, RFID Operations
LONDON—A recent study in the U.K. shows counterfeited or recalled medicine can be identified at the point of dispensing by pharmacists using RFID, which should increase patient safety and help pharmaceutical companies protect their brands.
During the study, pharmacists were also alerted within minutes about a drug recall. A pain-killer produced by Merck & Co. called Vioxx was recalled, and Aegate, which ran the computers that supported the scanning system, posted the drug recall notice live on its systems within three minutes.
All notifications came with an audio and visual alarm for pharmacists, and an extra protection was built in when recalled drugs were scanned. The screen was obscured and pharmacists had to acknowledge the message before they could continue scanning. The reader authenticates a drug by comparing information on a product's barcode or sensor to information on Aegate's secure database. It also gives pharmacists information on expiration dates or safety notices about prescription drug interactions.
"In one case, one of the pharmacists realized he was not regularly receiving recall notices through his paper-based system," said Alison Williams, a spokeswoman for Aegate. When the pharmacist went on vacation, his mail remained unopened, potentially allowing recall notices to pile up.
"The scanner has proved a very innovative addition to the dispensing process, and the extra checking step has increased our confidence that the selected item is both correctly dispensed and genuine," said Fliss Davies of Cordon Pharmacy, one of the study participants.
Aegate, a company formed by PA Consulting Group to run the study, used RFID tags on some 20,000 individual packages of medicine late last year and early this year. Pharmacists at 44 locations in the U.K. scanned all the items they dispensed with a custom-built RFID reader that also recognized bar codes. The test was the first that saw RFID tags applied to individual packages rather than pallets.
One in four pharmacies is still using the scanner to receive drug recall notices and other information, even though the pilot program has ended. Aegate is footing the bill for the continued service so that it can conduct small-scale tests on the system. Aegate is testing a business model as an IT service provider specialized in managing the unique identity of drugs for pharmaceutical companies.
RFID tags were chosen because U.K. authorities, the Medicines and Healthcare products Regulatory Agency (MHRA), requested that the outer carton of pharmaceutical packaging not be altered during the pilot program. RFID tags were ideal since they could be applied inside the packaging and read externally.
The results of the study showed that pharmacists were willing to add another step to their dispensing process in order to give better advice and provide better service to their customers. When a drug container is scanned, the latest information about the drug appears on the pharmacist's computer screen so it can be passed on to the patient. All drugs in Europe already have a barcode with basic product information, but some pharmacies in the U.K. don't yet use scanners to access the information, Aegate said.
One of the greatest benefits of using RFID tags could be protecting the supply chain.
RFID tags have been identified by the FDA as an ideal technology for fighting drug counterfeits. Drug counterfeiting is not widespread in the United States and Europe, but it appears to be growing. Since 2000, the FDA has investigated about 20 counterfeit drug cases each year, up from only 5 cases per year in the late 1990's, the agency said in a February 2004 report. In some countries, the problem is endemic. For example, recently more than 50% of anti-malarials in Africa are believed to be counterfeit, the FDA says. In virtually all countries, counterfeit drug operations have been uncovered in recent years.
Aegate used 13.56 Mhz, ISO 15693-compliant tags supplied by Finish company UPM Rafsec. These tags incorporated Philips I-Code chips. Aegate chose low-frequency tags because they are more suitable for item-level tagging. A short-read range is needed to avoid interference from other items on the shelf or products located near the scanner. The custom-built scanner, which reads both barcodes and tags, used parts of a Philips Pegoda RFID reader and an OEM barcode unit, plus additional electronics and a laptop.
---
This article originally appeared in the May 2005 issue of RFIDOperations.