Understanding the different memory types used in contactless smart cards and RFID tokens
By Geoff MacGillivray, Semiconductor Insights
The use of RFID and contactless smart card technology is exploding and devices (e.g. tags, tokens, cards) all require embedded memory arrays that suit the needs of the application. All of these devices require non-volatile memory, memory capable of retaining information in the absence of power and some of these devices require volatile memory, which is used to store temporary data. The requirements for these forms of memory vary among the different types of contactless devices. The memory type and size has a significant impact on the cost and performance of the device and manufacturers must make appropriate selections. The following article explores the memory needs of various contactless technologies and describes the embedded memory array types used in these devices.
Technology Applications
Applications range from basic RFID tags that contain a unique identifier to advanced smart card microcontrollers that are capable of executing complex code operations. The type of application dictates the requirements for the embedded memory.
Devices in the 125kHz, 900MHz and 2.45GHz ranges that operate under proprietary standards typically contain a unique identifying code. Recently, some of these devices began to use the EPC (Electronic Product Code) system that defines a 96-bit unique identifying code (over 7.9×1028 combinations or over a trillion quadrillion combinations). The majority of systems in this category only require the device to be read and not written. This means that the identifying code can be hard coded into the device's ROM memory or programmed once using EPROM memory. These types of memory are not very versatile but are cheap to produce and consume little power.
Contactless devices for more advanced access and payment applications require a much greater degree of flexibility, larger storage space and faster access speeds from the embedded memory. Therefore these devices often have two different types of embedded memory, SRAM and some form of non-volatile storage. The non-volatile memory is used to store application code and critical data such as encryption keys, passwords and purse balances. Manufacturers of contactless devices have traditionally used both ROM (Read Only Memory) and EEPROM (Electrically Erasable, Programmable Read Only Memory) technology as the form of non-volatile memory because they are well understood and dependable. However, these current forms of non-volatile memory are slow and consume relatively large amounts of power. All microcontroller-based smart card devices also require SRAM (Static Random Access Memory), which is very fast and is used to store temporary data. SRAM is a volatile form of memory because the contents of the memory are lost when power is removed from the device. SRAM arrays typically consume a large amount of die area.
Minimizing the area occupied by the embedded memory is important for reducing the size and thus the cost to manufacture the integrated circuit. However, manufacturers must be careful to allow enough space to store sufficient data to meet the end consumers' current and future needs. Speed is another consideration because consumers want to minimize the time that the card needs to be held in the RF field. Current EEPROM technologies have slow write times, which negatively affects speed in the field, however there are some future technologies that can reduce this time.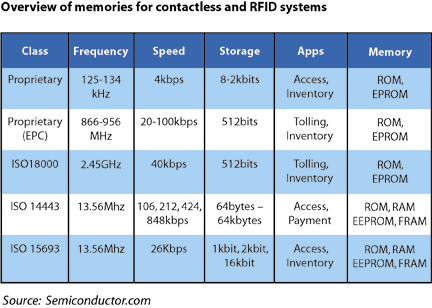 Memory Types
The memory types used within contactless devices each have their own strengths, weaknesses and suitability for different applications.
ROM/EPROM
ROM and EPROM memories are forms of nonvolatile memory that can only be programmed once. ROM devices are typically programmed during the manufacturing process so it offers the least amount of flexibility of any memory type. EPROM (Electronically Programmable Read Only Memory) offers more flexibility because it can be programmed in the field. These types of memory are generally very dense and fast and can be used in RFID type applications to store an identification number, EPC, or in more complex contactless devices to store application code.
SRAM
SRAM is a form of volatile memory storage that is used primarily with a microcontroller-based contactless card. The SRAM is used to store temporary data or as a scratchpad for the device. SRAM memories are physically large but fast … although the data storage is only temporary.
Embedded EEPROM and Flash Memories
EEPROM is the traditional non-volatile smart card memory that uses a floating gate to trap and store electrical charge. In the past, smart cards exclusively used EEPROM technology but newer cards that require larger amounts of non-volatile memory are beginning to utilize Flash arrays. EEPROM and Flash memory use essentially identical cells, the major difference is in how the memory array is structured. Flash enjoys a density advantage over EEPROM but has a less flexible write operation that may slow down transaction times.
FRAM Memory
One of the potential replacements for EEPROM technology is Ferroelectric RAM (FRAM). FRAM uses ferroelectric capacitors that can be polarized using low supply voltages. This electrical polarization stores the data and remains after the power has been removed. FRAM technology has been gestating for about 20 years, but has seen accelerating progress in sales and development in recent years. Commercial FRAM devices have been available in low densities for standalone and embedded applications for several years. FRAM has a significant advantage over EEPROM technology because of fast write times. This would allow FRAM to not only replace EEPROM but also another embedded memory component, SRAM. The lower write times also makes FRAM more advantageous for contactless applications where a short write time will result in reduced transaction times.
FRAM is the most mature competitor to EEPROM since it is already being produced in commercial devices and is also present in some contactless cards. However, FRAM has had only limited success so far, due to manufacturing costs and yield problems. FRAM has some superior qualities, but is very difficult to integrate on semiconductors because it cannot withstand the high temperatures associated with normal manufacturing processes.
MRAM Memory
Another potential replacement for EEPROM technology is Magnetic RAM (MRAM).
MRAM uses the magnetic polarization of thin films of ferromagnetic material to store the state of the memory. The film polarization remains after power is removed from the chip. MRAM development has increased in recent years but delays have occurred in the delivery of commercial samples and there are no devices on the market.
MRAM offers many of the same advantages that FRAM offers, specifically low write times, no boosted voltages and low power consumption. MRAM also shares FRAMs disadvantage in that it is also difficult to manufacture.
Conclusions
Contactless devices require a wide variety of embedded memory technologies including ROM, SRAM and EEPROM. These memories are the predominant forms of memory used in contactless devices but there are other forms of memory that could see increased use in upcoming years, namely FRAM.
---
About the author:
Geoff MacGillivray is a Security Analysis Manager and semiconductor expert with the consulting firm, Semiconductor Insights, located in Ontario Canada. To visit Semicondutor Insights on the web, click here.