Universal Hospital adds RF Technologies' infant security solution to its offerings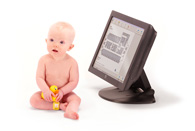 RF Technologies has announced a distributor agreement with Universal Hospital Services, a provider of medical equipment management and service solutions, to present its Safe Place Infant and Pediatric Security Solution anti-abduction system to hospitals nationwide.
The Safe Place Infant and Pediatric Security Solution protect infants and children within an assigned area of a hospital. A nurse attaches a small, lightweight transmitter onto the child's ankle. If an abductor attempts to remove an infant through a protected doorway or other point of exit, an alarm will sound and all area doors and elevators will lock. Any attempt to tamper with system wiring or transmitters by unauthorized personnel will send an alert to the monitoring system.
Safe Place utilizes Smart Sense technology, which uses multiple measurements to maximize infant protection. The security system can detect if a band is loose, tampered with, or has been removed from the infant. The soft, stretchy band comfortably shrinks around the newborn's ankle to accommodate weight loss or gain, keeping the transmitter in place and the infant secure.