UPEK working to bring a biometric sensor to every pocket

It is quite possible that the first biometric reader that you will "own" will include a sensor from a company called UPEK. That is because the Berkeley, CA-based company is having exceptional success convincing consumer electronics manufacturers to integrate silicon biometric sensors into their laptops, PDAs, and mobile handsets.
According to UPEK President and CEO Alan Kramer, the company's sensors can be found in IBM and Lenovo ThinkPad notebook computers, SanDisk USB flash drives, Fujitsu mobile phones, LaCie hard drives, and Brinks firesafes.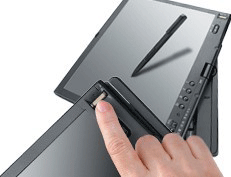 But consumer electronics are not the only markets. UPEK technology also can be found securing building access in a line of readers from HID, authenticating Malaysian national ID cards in ruggedized PDAs, and in handheld units from Symbol that are in use at U.S. Department of Defense locations.
"Last year we supplied more than one million units.," said Mr. Kramer. Impressive considering UPEK has only existed as an independent company for a single year. Prior to that Mr. Kramer and the silicon-based sensor technology he pioneered lived as a business unit inside STMicroelectronics.
In 2004, the unit was spun off from STMicro with venture funding. "We raised $20 million in Series A financing," says Mr. Kramer, "still the biggest round for a biometric company."
UPEK sets the pace in silicon sensors for fingerprint biometrics
"We were one of the earliest to figure out how to collect fingerprints with silicon," says Mr. Kramer in reference to his company's core product. While the majority of fingerprint readers utilize optical technology, this newer type of reader actually senses the print's ridges and valleys via direct contact with a silicon chip.
UPEK's major products are branded TouchChip™ and TouchStrip™. TouchChip is a larger sensor that captures the entire print image in a single placement. These rectangular sensors are a bit smaller than a postage stamp. The TouchStrip resembles a single slice of the TouchChip just the width of a pencil lead. With this sensor, the finger is swiped across the silicon strip and captured in a series of strips.
Both products create high quality images, says Mr. Kramer. "Our sensors put out an image as good as the highest quality optical sensors, but at the cost of the lowest priced (optical) units ($30-40)."
In the past, UPEK sold the sensors to manufacturers for integration into products and sold certain complete products that other companies would re-brand. As an independent company, however, UPEK is free to brand and sell a line of its own products.
Assessing the competition
UPEK is not alone in the fingerprint sensor market. A number of other companies offer similar, yet technologically different, solutions. AuthenTec, for example, uses a silicon senor to measure radio waves that bounce off the ridges and valleys in the sub-surface "live layer" of the finger. Atmel measures the thermal differences in the ridges and valleys. And other companies, including Atrua, also offer silicon-based solutions.

The challenge ahead
"Our challenge is to find the mature markets for mass deployments," says Mr. Kramer. "In the first year we doubled revenues and we are on track to do it again this year."
The silicon sensor market certainly requires volume sales to succeed. And in a 'chicken and egg' scenario, volume and unit price are inversely proportional.
But Mr. Kramer is confident in his technology and his company's future. "We can read (an extremely) wide spectrum of dry to moist skin so you don't need the tub of wax like they use with USVisit," he states referring to the process used to moisten the finger to improve read accuracy in certain optical reader deployments.
"Our mantra," he adds, "is a sensor in every pocket. We know that passwords are really lousy technology. Fingerprint technology is much more secure and easier to use. You don't need to have this hellish life with all these passwords. This is the future of ID," he concludes. "Think of the utility … to be able to have people vote from home, use for civil requirements, eliminate concerns about cards falling into the wrong hands. All without adding much cost."
---
Additional resources:
To visit UPEK on the web, click here.