UPM RFID laces up at European Championship level Triathlon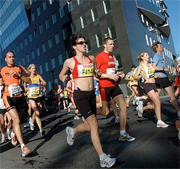 UPM RFID made its race-timing debut at the Long Distance Triathlon European Championships 2011. Competitors from more than 20 European countries were caught sporting tailor-made, water-resistant ankle bands embedded with UPM DogBone RFID tags.
The RFID tags were read by ThingMagic readers installed at designated checkpoints in the transition area gates. This enabled competitors to be tracked in real time and for results to be monitored online on the event organizer Web site.
The long distance triathlon is made up of a 4,000-metre swim, 120 kilometres of cycling and a 30-kilometre run. The timing was split into swim, transition, cycle, transition and run.
In addition, UPM's ultra-high frequency DogBone RFID tags were further tested at the Finnish Ironman Championships in Hämeenlinna, Finland.