Using NFC to track trade show attendees
ITN International aims to make conference and exhibit hall lead tracking easy, all with near field communication

Ivan Lazarev, president of ITN International, sees great potential for the bCard business and the way it works with NFC. The bCard – for business Card – was originally launched in 1999. Since then ITN International has grown to become a provider of mobile data management and information solutions for the event marketing industry. And ITN relies strongly on near field communication to get the job done.
"The bCard is based on smart card technology," says Lazarev. "We basically designed a better mousetrap. It was a universal business card that could be used to create a unique digital ID linked to an account on the Web."
The bCard is a contactless smart card that looks like a regular trade show badge, says Lazarev. But it's a badge loaded with information that an NFC-compliant phone can retrieve by a simple wave of the phone within an inch of the badge.
Lazarev and company have been in on NFC since it was introduced. "We became partners with NXP, one of NFC's developers, to deploy an NFC ecosystem for events and trade shows," says Lazarev. "We started in 2005 and all our events became contactless. Anytime you approach a reader with the card, it can be read and written to. It becomes an interactive media," he adds.
At the CTIA Wireless show, held in April in Las Vegas, ITN issued thousands of NFC-compatible cards. The cards held the attendee's ID on a chip which could be read by an NFC phone, says Lazarev.
This year, for first time, ITN was able to incorporate NFC phones from Nokia. "We bought a huge quantity of these phones (the Nokia 6212) and deployed about 500 at CTIA for use by exhibitors."
Everything in one place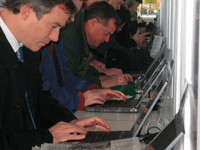 ITN manages registration for the event it serves and with its Web site manages the data from the attendee badges. The company works with about 120 shows a year. "We've had a 20% growth every year and have issued five million cards," says Lazarev.
"We install the entire information management system and five days later, we pack it up and move to the next event," says Lazarev, who is based at the company's Bethesda, Md. location. "It's all about touch and go, whether its an ID badge or poster," says Lazarev.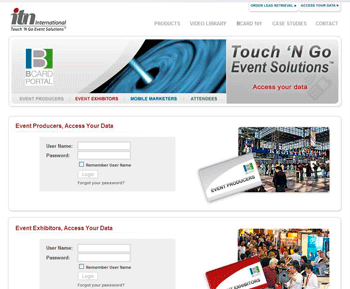 The phones are rented to exhibitors to use for lead tracking and contact management during the event. Exhibitors can review the information obtained from the badges via a secure Web site and through the phone. "They can do 24-7 management, and not just at the booth. For example, at a reception they can continue reading cards," Lazarev adds.
The data from the badge is read by the phone and stored locally on it but is also sent to a secure site for later access. "When you go to the Web site via your phone, you'll be able to see all the names you gathered, all the booths you visited, your experience at CTIA, for example, on one Web site," he says.
This lead tracking can benefit both exhibitors and attendees because "80% of leads are never followed up on. You can work with Facebook or Linkedin to move the information to where it would be readily usable."
Session access control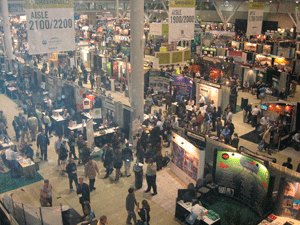 ITN can also go a step further, supplying show management services as well. "Shows all have incredible need for access control," he says. That means access rights can be stored on the card and NFC phones can determine if the badge holder has paid for the session he is attempting to enter.
"That's when NFC starts becoming a lot of fun," says Lazarev. "I write back to that card that you attended that session, so when you go to one of our Web terminals and tap your card, it knows that you attended a particular session and may give you an evaluation form which you can complete," says Lazarev.
The cards can also be used to keep track how long an individual attends a particular session. "For medical events, we read them in and read them out so we know how much time they spent in the room and can issue them continuing education units," he adds.
It works for what Lazarev calls product delivery too. "I go to a high-level conference and I want to receive a copy of the proceedings. We write to your card all the proceedings you're entitled to. When you go up to the proceedings desk, we know what you're supposed to get and we write to the same card that you picked up your copy," says Lazarev.
Another event function that ITN offers is the e-purse. A conference can elect to load onto the badge a specific amount of money. "We work with the venue and put a phone in the restaurants, for example, and attendees can pay with their badge."
The beauty of this feature is that the show's sponsor is only liable for the actual amount spent. "This has saved show producers a tremendous amount of money," says Lazarev. "They're paying for actual usage rather than generic usage." In the past, he says, show management was being billed for the full amount even if the badge holder only used a portion of that amount.
When NFC phones become more prevalent the business model may shift for ITN, Lazarev says. "Our next target is to go to the attendee side. They'll be showing up with their NFC phones and we'll be able to load the bCard information directly onto their phones," he says. "Right now, we're just waiting for the phones to come. I've been saying for several years they're coming, now I think they really are coming."