VeriChip re-launches VeriMed electronic health records system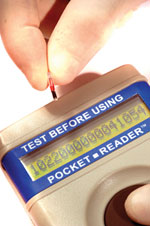 VeriChip Corporation, a provider of RFID health care systems, announced that it is re-launching its VeriMed Health Link electronic health records (EHR) system. VeriChip hopes to capitalize on the American Recovery and Reinvestment Act of 2009, which authorized $23 billion in stimulus funds for health care information technology, with an emphasis on the implementation and adoption of EHRs.
VeriChip's Health Link EHR system, which was cleared by the FDA in 2004, incorporates implantable RFID microchips (VeriChips), handheld scanners for emergency room personnel and online electronic personal health records. So far the company has enrolled a total of 536 patients in the Health Link EHR system.
The system hit a snag in July 2008 after VeriChip sold a significant portion of its assets to The Stanley Works and diminished its marketing efforts for Health Link, but in November 2008 VeriChip's former Chairman and CEO, Scott R. Silverman, purchased a majority ownership position and has since pushed for the re-launch of Health Link.
According to VeriChip, EHR systems like Health Link offer a number of advantages over previous record keeping methods, including decreased medical errors and reduced costs for providers and insurers.