VeriChip touts mass-casualty study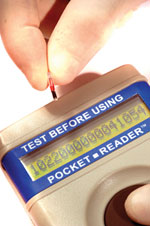 VeriChip, providers of RFID systems for the health care industry, is calling attention to the results of an independent study presented at the Society of Academic Emergency Medicine's annual meeting. The study examined how VeriChip's electronic medical record access system affects the costs of emergency room care during a mass casualty scenario.
The study concluded that use of the VeriChip system for access to patient records significantly decreased the emergency care charges among critically injured patients in the mass casualty scenario, with a mean decrease in ordered charges of $685.67 per patient. Theoretically, according to the researchers, this translates into over $15 billion in decreased emergency care charges annually for critically ill patients presenting in the emergency room, if the wounded were implanted with the VeriChip device.