Verifone launches Sail mobile POS reader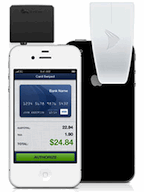 VeriFone Systems has unveiled its new Sail mobile point of sale solution for merchants who want to accept NFC and EMV payments on their mobile phones or tablets.
Like with Square's mobile point of sale reader, the Sail device plugs directly into the headphone jack of an iOS or Android mobile phone. Sail can also be integrated with traditional VeriFone countertop devices that support EMV and NFC standards, according to VeriFone.
The entire Sail platform includes a mobile software development kit (SDK) and secure gateway with end-to-end encryption, real-time merchant fraud screening and boarding APIs, merchant processing and settlement services, and the ability to connect to third party marketing, loyalty and social media tools.
Sail offers two pricing options: lower volume businesses can opt for a flat 2.7% fee for swiped transactions, while those with higher volumes can select a monthly $9.95 subscription with a discounted 1.95% transaction rate.
Vantiv, the third largest merchant acquirer and the largest PIN debit acquirer based on number of transactions in the U.S., will begin to market Sail technology to select merchants.
"As a simple and cost effective solution, Sail complements our existing merchant service offerings to small businesses," said Bill Weingart, Chief Product Officer at Vantiv. "Leveraging the VeriFone platform opens up new opportunities for our clients to transact card payments and provides a foundation that allows us to continually innovate."
The Sail app for mobile devices is now available for download from the Apple App Store, and will be available on the Android Market later this month. Merchants can subscribe to the service directly from their mobile device or visit the Sail website.