VeriFone reveals all-in-one contactless payment terminal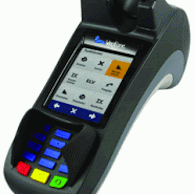 VeriFone Systems has revealed a new counter top payment terminal that accepts magnetic stripe, EMV chip, contactless card and NFC mobile transactions.
According to VeriFone, the "H5000" is designed to succeed the Artema Hybrid terminal from Hypercom, which Verifone acquired in August. The device features one card reader slot that accommodates all card types – EMV chip, contactless and magnetic stripe – and an integrated NFC reader for mobile payments and value added services. Other features include a PIN pad, color screen, 32-bit ARM11 400MHz processor, graphical user interface and optional printer.
The H5000 is offered as a stand-alone-version or together with VeriFone's PAYware TCS central management system, which is designed to give Network Service Providers and retailers more control over their payment device estate as well as reduced operating costs, according to VeriFone.
VeriFone says they will make the H5000 available to exclusive buyers in the first quarter of 2012 ahead of a wide release in the second quarter.