VeriFone to supply Beall's with NFC readers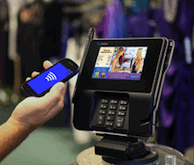 VeriFone has announced that it will equip U.S. retail chain Beall's with its NFC-enabled MX 915 point of sale readers.
According to VeriFone, the MX 915 is one of the first models in the company's new customer-facing MX 900 series. The device supports NFC mobile payments, EMV smart cards, and other alternative payment methods, as well as value-added services such as gift cards and loyalty programs.
Beall's Inc., which accounts for over 560 department and outlet stores nationwide, will also deploy VeriFone HQ, an estate management solution that is designed to keep businesses up to date through evolving payment and mobile solutions.