Viisage to acquire SecuriMetrics adding iris to its biometric portfolio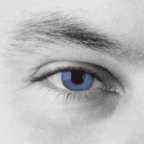 On the heels of the announced merger with Identix, Viisage announced plans to acquire Iris biometric company, SecuriMetrics. This gives Viisage iris, face, and fingerprint solutions and expertise. The company will pay $28 million in cash with an additional $14 million in performance based opportunity. The deal is expected to be complete by the end of the month and should add $15 million in revenue to the Viisage books in 2006.
Viisage to Acquire Leading Iris Recognition Company SecuriMetrics, Creating the Industry's Only U.S.-Based Finger, Face and Iris Multi-Modal Biometric Offering
BILLERICA, Mass. (USA) / BOCHUM (Germany) – February 7, 2006 – Viisage Technology, Inc. (Nasdaq: VISG) recently announced that it has agreed to acquire privately-held SecuriMetrics, Inc., the manufacturer of the world's only full-function handheld iris recognition and multi-modal biometric devices, software applications and services. With this acquisition, and the completion of the pending Identix merger, Viisage will become the only U.S.-based manufacturer of a full range of handheld and multi-modal biometric recognition solutions encompassing iris, finger and face.
Under the terms of the transaction, Viisage will pay $28 million in cash, net of the $2 million in cash on the acquired company's balance sheet. The acquisition agreement provides SecuriMetrics shareholders with the opportunity to earn up to an additional $13 million in consideration if key performance thresholds and contingencies are reached, of which $11.5 million would be paid in shares of Viisage common stock at a fixed price of $17.69 per share.
The cash portion of the purchase price is being funded from the initial $100 million investment that L-1 Investment Partners made in Viisage in 2005.
Robert V. LaPenta, Chairman of the Board of Viisage said, "Iris-based recognition technologies are poised for growth as a highly accurate and mobile option for biometric identification. SecuriMetrics has both a unique set of products and services, as well as deep customer relationships at the local, state, federal and international level."

Full Range of Iris Recognition Solutions
Iris recognition is a fast, accurate, and highly scalable biometric recognition technology and is a strong complement to finger and face recognition approaches. SecuriMetrics offers a full suite of hardware, software and services required to capture, encode, transmit and establish identity based on iris patterns. SecuriMetrics identity products are particularly well-suited for harsh physical environments, offering a simple to use and highly portable solution that is ideal for quickly and accurately identifying individuals in handheld military applications and field deployments.
SecuriMetrics offers the PIER (Portable Iris Enrollment & Recognition) device that stores up to 200,000 individual iris images and can perform searches and return results to an operator. Nearly 2,000 PIER devices are deployed today throughout Iraq, Afghanistan, Pakistan, Cuba, Bosnia and other areas of conflict. U.S. detention centers in Iraq and Afghanistan also use this device to manage detainees. SecuriMetrics hardware and software solutions are also used to secure physical assets (such as buildings and bases), provide positive inmate identification, and screen for insurgents against "watch lists."
Another major area of technology innovation in final testing today is the HIIDE (Handheld Interagency Identity Detection Equipment), the first and only portable multi-modal device in the world that will be capable of collection and identification of subjects using iris, finger and face recognitions.
"Our industry is ready for rapid expansion and this consolidation onto the Viisage platform is just the catalyst needed to accelerate the deployment and widespread use of iris recognition technologies," said Greg Peterson, Founder and CEO of SecuriMetrics, Inc. "We are extremely excited about collaborating on a shared vision to improve security through an advanced set of identity solutions."
Customer Synergies at the Local, State, Federal and International Level
Similar to its use of Viisage products, the U.S. Government uses SecuriMetrics products in support of national security and homeland defense across various federal agencies.
"We believe that the use of biometrics in the War on Terror, specifically iris recognition, could help prevent another 9/11 from happening," said Lieutenant Colonel Kathy De Bolt, U.S. Army Battle Laboratory in Fort Huachuca, AZ. "SecuriMetrics' handheld device allows flexibility of use on the battlefield and provides a level of accuracy we have not seen before with biometrics. If the use of these devices can save just one life, we will have received benefit from our investment. Our goal is to use them to save many lives and win the War on Terror."
In addition to military applications, integrated biometrics are of particular importance for government initiatives, such as the U.S. Registered Traveler program that allows air passengers greater conveniences at airport security checkpoints in exchange for submitting to a background check and providing personal biometric data.
Other opportunities exist for the combined company within state and local law enforcement agencies, as well as public and private correctional facilities.
"More and more organizations are requiring seamlessly integrated biometric solutions – finger, face and iris – and this acquisition will solidify Viisage as the new standard for identity solutions," said Bernard Bailey, CEO of Viisage Technology. "Technological advances required to maintain this high standard will continue, fueled by our development team that will represent one of the most qualified and largest group of finger, face and iris recognition experts in the world."
The transaction is expected to close by the end of February 2006 and is subject to customary closing conditions. It is expected to add approximately $15 million in revenue in 2006 and $3 million in EBITDA. Holders of a majority of SecuriMetrics preferred and common stock have agreed to vote in favor of the acquisition.
Viisage hosted a conference call for investors and the media yesterday to discuss this acquisition. A replay of the webcast is available on the Viisage Investor Relations web site at www.viisage.com.
EBITDA
Viisage uses EBITDA as a non-GAAP financial performance measurement. EBITDA is calculated by adding back to net income (loss) interest, taxes, depreciation and amortization. EBITDA is provided to investors to complement results provided in accordance with GAAP, as management believes the measures help illustrate underlying operating trends in the Company's business and uses the measures to establish internal budgets and goals, manage the business, and evaluate performance. EBITDA should not be considered in isolation or as a substitute for comparable measures calculated and presented in accordance with GAAP. Viisage has not provided a quantitative reconciliation of EBITDA with projected net income (loss) because such reconciliation cannot be provided without unreasonable efforts.
About Viisage
Viisage (NASDAQ: VISG) delivers advanced technology identity solutions for governments, law enforcement agencies and businesses concerned with enhancing security, reducing identity theft, and protecting personal privacy. Viisage solutions include secure credentials such as passports and drivers' licenses, biometric technologies for uniquely linking individuals to those credentials, and credential authentication technologies to ensure the documents are valid before individuals are allowed to cross borders, gain access to finances, or granted other privileges. With over 3,000 installations worldwide, Viisage's identity solutions stand out as a result of the Company's industry-leading technology and unique understanding of customer needs. Viisage's product suite includes Viisage PROOF, iA-thenticate, BorderGuard, IdentityTOOLS SDK, IdentityEXPLORER SDK, FaceEXPLORER, FacePASS and FaceFINDER.