VingCard unveils 'hidden' contactless door lock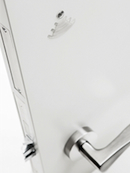 VingCard Elsafe has unveiled "Essence by VingCard," a new NFC-enabled door locking design that encases all electronic components within the door itself, rendering the hardware invisible to hotel guests.
According to VingCard, Essence is the first electronic door lock solution to eliminate visible reader components. As with VingCard's other offerings, Essence locks can be accessed using a contactless room card or fob, or using an NFC-enabled mobile phone.
Essence also supports VingCard's VisionLine system, which leverages standalone electronic locks that communicate with a central property server via online radio frequency. According to VingCard, this eliminates the need to manually encode keycards, cancel master cards or check battery life, and provides a remote audit trail and live card-tracking capabilities.
"Essence by VingCard represents another giant leap forward in hotel design and technology," said Tim Shea, president of ASSA ABLOY Hospitality, VingCard's parent company. "It not only makes the lock disappear from the hotel door, resolving design challenges for savvy, design-conscious hoteliers, but it also minimizes a variety of other operational issues, such as integration, installation and maintenance."