Visa chip cards hit 1 million in U.S.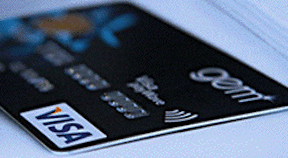 Visa has announced that more than 1 million EMV chip-enabled cards have been issued by U.S. financial institutions as of December 31, 2011.
Just 18 months ago there were no Visa-branded EMV chip cards issued in the U.S. according to Visa's Stephanie Ericksen, who attributes the sudden growth to U.S. issuers accepting Visa's EMV and mobile payments road map.
"Since announcing our road map last year, we have seen strong interest among U.S. issuers large and small to invest in chip technology, as today's milestone shows," said Ericksen.
EMV chip technology refers to the microchip that is embedded in a credit or debit card, or even a mobile device. According to Visa, an EMV chip provides greater security and fraud protection over magnetic stripe technology, as it generates a unique code every time it is used. The same chip technology also enables mobile NFC payments.
EMV chip card programs are now available from financial institutions such as Chase Card Services, State Employees' Credit Union, United Nations Federal Credit Union, U.S. Bank, and Wells Fargo.
"In 2011, Wells Fargo led the way with an EMV smart card pilot to 15,000 customers who travel frequently to countries where chip-based payments is the standard," said Eric Schindewolf, vice preisdent of product development for Wells Fargo Consumer Credit Card. "Based on the overwhelming success of the pilot, we are now considering making this program more widely available."
To support continued issuer adoption of chip payment technology, Visa is introducing Visa Chip Services, a suite of new and existing solutions to help issuers implement programs using EMV chip technology, including NFC-based mobile payments.