Visa's CitizenCard ID doubles as prepaid card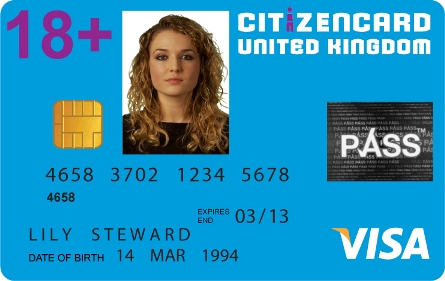 Visa's new Prepaid CitizenCard ID is adding a feature that enables the card to be used for commercial purchases.
The cards, which are available for ages 12 and above, display not only the date of birth of the cardholder but an age band as well. The age bands– 12-15, 16-17, 18+, 21+, etc.– along with the card number identify whether the cardholder is over or under the age of 18, thus preventing the card from being used to pay for age-restricted goods if the cardholder is not of age.
The CitizenCard's Government PASS mark – proof of age standard scheme – recognized as valid ID by the Home Office, the Scottish Government, the Police and Trading Standards and is approved by Visa.
The new Visa CitizenCards are prepaid, meaning that money must be loaded onto the cards prior to using it for a purchase. Loading the card is free if done by bank transfer, standing order, online banking or at any Barclays branch, but loading it with cash carries a fee of 2-3%, according to an MSNBC report.
Advocates of prepaid cards say that this not only improves money management habits, but also avoids the possibility of debt. Additionally, the cards double as a form of identification, and with a replacement cost of only £15- far less than the cost to replace a driver's license or passport- the advantages of the cards are evident.
However, critics of the cards are skeptical of money and personal information being stored in the same place.
The cards, which are currently operating in Europe, are available to children under the age of 16 with the consent of a parent or guardian, while those 16 and older are eligible to maintain their own cards.
Costs for that cards are currently £15 for delivery within a month and £30 for delivery within a week.
Read the full MSN Money article here.