Wal-Mart pushing for EMV in the U.S.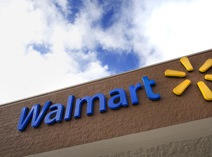 Wal-Mart is insisting on EMV payment in its U.S. stores, according to storefrontbacktalk.com.
The retail giant made the announcement that it's "time for Chip-and-PIN in the U.S." at the Smart Card Alliance conference in Scottsdale, Ariz last week.
Wal-Mart's director of payment services, Jamie Henry, told SCA conference attendees that it was "PIN or nothing," and called mag-stripe cards and the signatures they require "a waste of time."
"Wal-Mart's POS hardware is 100% Chip-and-PIN capable," Henry added. "Our hardware is in place, although the software needs some work. We are working on implementing it in the U.S. Let's get a roadmap and move it forward here in the United States."
Henry also acknowledged the security holes in EMV, but granted that chip-and-pin cards offer an improvement over mag-stripe cards in that respect.
Wal-Mart, a global retailer, has already implemented EMV in its stores abroad, but is forced to maintain its mag-stripe hardware in the U.S., which is starting to become a major liability, especially since mag-stripe cards offer an easy target for fraud.
"We want to create an environment that is consistent for our international cardholders," says Henry.
Read more here.