Watch out, EMV is coming in contactless too

A panel of ID industry experts provided predictions for 2006. One of these glimpses into the future will appear here each day during December.
By Dominique Gauthier, Marketing Manager, software and technologies, Ingenico
This past year will remain in the payment industry history as The Year It Really Started. For the first time, the banking industry took seriously a technology it had regarded with distrust. After years of successes in the transit industry, the first massive deployments of a contactless infrastructure are happening in the U. S. Some 10,000 readers and several million cards are already active in this country. Most observers agree that 2006 will see an acceleration of these deployments in the United States, with probably 20 to 50 million cards issued by the end of 2006.
This was an easy out, some critics may say, because U.S. banks chose relatively simple technology, the contactless equivalent to magnetic cards. It was cheap, quick, and without a lot of security, but online verification was there to compensate. This isn't an option, however, in any country where banks are painfully implementing costly EMV standards, or are planning to do so.
For these, MasterCard, Visa, and American Express have devised specifications that implement the same EMV mechanisms in contactless. EMV-like transactions involve much more data traffic between the reader and the card, each requiring the other to authenticate itself.
First, experiments done two years ago were quite catastrophic in terms of transaction time. Luckily there has been considerable progress on both sides (cards and readers). Ingenico and MasterCard were the first to demonstrate, as early as 2004, that an offline EMV transaction could be accomplished in a fraction of a second – not perceivably longer than a non-EMV one.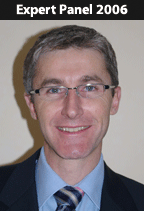 Using EMV standards, sophisticated security mechanisms can even be implemented. For example, MasterCard and Visa have developed specifications that allow offline contactless transactions until a floor limit is reached, say $30. When that limit is reached, the user is requested to insert his card in the payment terminal that would require an online PIN-verified transaction. The transaction level would then be reset.
Many banks now realize they can have the best of both worlds: contactless offline transactions for speed and convenience and contact online transactions for PIN verification. Cards that enable both contact and contactless transactions allow banks to leverage their contact infrastructure. And adding a contactless reader to an existing terminal is quite easy if the reader is used as a transparent peripheral, getting all commands from the terminal application in the same way as the contact connector. Both contact and contactless can then be integrated in the same payment application, ensuring seamless transition from one to the other.
Demonstrations of contactless EMV payments at the recent Cartes show in Paris raised considerable interest. Several pilots are now underway. There is little doubt 2006 will be the year contactless EMV got off the ground.
---
Visit Ingenico on the web at
www.ingenico.com.