We'll hear much from contactless, NFC in 2006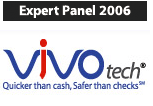 A panel of ID industry experts provided predictions for 2006. One of these glimpses into the future will appear here each day during December.
By Mohammad Khan, President, ViVOtech
These past 12 months could be considered "the year" of commercial roll out of contactless payment in the United States. MasterCard, Visa, and American Express have all been driving their respective contactless programs, resulting in nine to ten million contactless cards that were expected to be issued by the end of this year by various financial institutions, including Chase, American Express, MBNA, Citibank, Keybank, and HSBC. Tens of thousands of POS locations are already enabled to accept contactless payment at brand names like McDonald's, CVS Pharmacy, movie theater chains Regal, AMC, Loews, and Cinemark, 7-Eleven, KFC, Arby's, Meijer Supercenters, Sheetz Convenience stores, and many others. VIVOtech alone has shipped more than 120,000 contactless readers during the last 18 months. This year, contactless has also started to gain commercial momentum in Asia and Canada.
In 2006, the major trend will continue to be the increase in the adoption rate of contactless technology. Some 15 – 20% of the active branded cards in the country are expected to be converted to contactless technology. Consumers living in major cities will start receiving their contactless credit, debit, or prepaid cards sometime in 2006. They should be able to use these cards at a wide variety of small to large merchants. Most of the major acquirers and ISOs will start enabling their merchant base with contactless technology. Thousands of vending machines, taxi cabs, and kiosks will be contactless-enabled to accept payments. Next year, we are also going to see multiple pilots in the NFC (Near Field Communication) phone payments enabling card issuers, retailers and cell phone operators to deliver additional convenient ways to pay with their differentiating services.
In international regions, where EMV smart cards are in the process of being rolled out, we are seeing a pleasant welcome by these countries to contactless payment as a complementary technology to address low value transactions in high traffic environments where cash is currently dominant. A "Combi" card is already being issued in Taiwan and Malaysia that has both a contact and contactless interface. Consumers will be able to just tap their "Combi" cards on a contactless reader when faced with a transaction below a certain value and receive quick approval, or otherwise just insert the card into the smart card slot to complete the EMV transaction.
Multiple NFC phone payment pilots are getting ready in the U.S. and other regions. In 2006, we are going to see some of these pilots in the NFC phone payments area become public, allowing card issuers, retailers and cell phone operators to deliver additional convenient ways to pay while offering rich and differentiating services like loyalty, promotions, and ticketing. ViVOtech is currently involved in more than a dozen NFC pilots in several regions. We expect to see multiple NFC phone models available in the marketplace by Christmas, 2006.
Besides the contactless payment, the next wave of loyalty and reward programs will be offered by retailers and issuers to their respective customers. Real-time loyalty programs integrated with payment transactions will be implemented to make it easier for consumers to see the fruits of their loyalty with retailers and card issuers. Both contactless and NFC technologies are going to play an important role in this area.
---
Visit ViVOtech on the web at www.vivotech.com.
Near Field Communications News and Insight
Explore more developments dealing with the implementation of Near Field Communications, a short-range wireless technology that promises to revolutionize contactless identification, payment, access, and more.
Click to visit NFCNews
.