Wells Fargo brings contactless payments to the wild west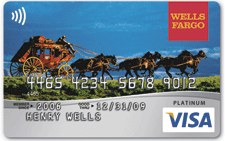 By Andy Williams, Contributing Editor
A couple of years ago Wells Fargo's Peter Ho was in Hong Kong when he picked up an Octopus card, a rechargeable contactless stored value smart card used for electronic payment. "I said 'wow, wouldn't that be cool if we could do something like that in the U.S.?' " Zip ahead to 2006 and Mr. Ho's dream is about to become a reality. Wells Fargo is soon to become the first bank in the western United States to enter the contactless card arena.
"We've been looking at contactless for quite a while now; we've been following the Orlando and New York tests," said Mr. Ho, Wells Fargo Card Services vice president and product manager. MasterCard's Paypass trial in Orlando included Chase, Citibank, MBNA, 60 retail locations and some 16,000 cardholders. Around the same time, American Express conducted similar trials in New York and Phoenix, Ariz. with its ExpressPay Card.
What has been a stumbling block in contactless card issuance for most banks is not so much fear about whether their customers would use it but whether there was a merchant base large enough to support the new payment technology.
"This time around we started seeing merchant adoption pick up faster," said Mr. Ho. Even so, he admitted that not as many merchants have yet opted for contactless acceptance as has occurred on the east coast. "We're taking a bit of a chance," he added. The bank is "in discussions with individual merchants" to get more on board. According to Visa, some 4.5 million Visa cards are equipped with the contactless feature and more than 30,000 merchant locations in the U.S. accept contactless payments, though the majority of this growth has occurred in the eastern region of the country.
"We also saw this as a great opportunity to add convenience and speed to the day-to-day transactions for our customers. We started looking at how we would position this and saw right away a great connection between 'My Spending Report' which we offer to all credit and debit card customers," he said. This report tracks a Wells Fargo card user's spending and categorizes it so the customer "can see where they're spending their money. Instead of spending cash, use your contactless card (further clarifying your total spending picture)."
He added: "We pride ourselves as being at the forefront of technology solutions that help our customers securely conduct their financial transactions when, where and how they want. We believe our customers will benefit from the speed and convenience offered by this exciting technology."
The bank's first contactless cards will be issued in the next couple of months, he said. "We're not sure of the number of cards" that will initially be rolled out.
Though Wells Fargo issues cards in all 50 states, it has brick and mortar banks in 23 states with 6,200 locations. "We're basically west of the Mississippi, with Minnesota being our eastern-most location," he said.

Wells Fargo chooses Visa as their contactless partner
The Wells Fargo contactless card will be issued through Visa. "We do issue both Visa and MasterCard, but Visa is our primary association which is why we chose their contactless solution. Also, Visa is right across the Bay (San Francisco). We're closer and we work well together."
First Data personalizes and embosses the cards on Well Fargo's behalf. The first products to have the new functionality will be the institution's Platinum and Signature cards.
Who will receive it and what will it do?
The new card will offer built-in protection with the WellsProtect program, eliminating cardholder liability for unauthorized transactions made at merchants, over the phone, on the Internet or at the ATM.
For charges of $25 or less, no signature is required, speeding up transaction time. No receipt will be necessary either unless the customer requests it, said Mr. Ho. "If it's over $25, it's up to the merchants if they want to take the risk."
The bank will be issuing the new cards to a select group of customers … what it calls the "reissue population," those cards coming up for renewal, said Mr. Ho. "We'll select a subset of that group and issue the contactless card to them. That way we can measure their affinity to the new technology." That's not to say that any customer who wants a card with the contactless capabilities won't be able to get one. All they have to do is ask, added Mr. Ho.
Unlike other banks which might have special names for their contactless cards, this will simply be called the "Wells Fargo Visa Contactless Card," said Mr. Ho. "Visa took the stance to allow the issuer to name the card on their own." Sticking with the Visa name also allows the bank to piggyback on Visa contactless card promotions.
"We're already educating customers on what the card does and the last thing we wanted to do was confuse them by coming up with a different name," said Mr. Ho.
Overall, Mr. Ho views the contactless card as "a great opportunity for our customers, allowing them to better manage their spending." Once (customers) understand the concept and what it does, it will be very successful. We're very excited about it."