Will the RFID-enabled pen have the write stuff?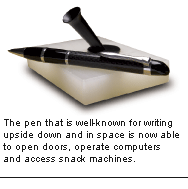 By Rhea Wessel, Contributing Editor, RFIDOperations
This article originally appeared in a 2005 issue of RFIDOperations.
A pen that was first used on Apollo 7 in 1969 and made famous again 3 decades later on the Seinfeld sitcom because it could write upside down, is now able to do much more.
Fisher Space Pen of the U.S. and Dutch pen designer, Allwrite BV, have developed an RFID-based Hi-Pen so users can walk through electronically controlled doors and gates, operate restricted computers or get snacks out of an enabled vending machine. The pen could be used as a marketing tool for companies attending trade fairs or any company wanting a long-lasting novelty advertisement. At about $50, the Hi-Pen combines RFID tag technology with the writing performance of the Fisher Space Pen, which writes upside down, in space, underwater and at the top of Mount Everest.
Allwrite got a disappointing response at the Paperworld fair in Frankfurt, Germany earlier this year, but spokesman Wiebe van der Meer says attendees didn't appreciate the full potential of the technology. The Hi-Pen will make its next debut at a security fair in Las Vegas where they expect to find a more receptive audience. The pen can be used to automatically access PCs that are equipped with the Hi-Pen Desk Stand (which plugs into a standard USB port) by merely placing the pen into the stand, instantly logging the pen owner onto the computer.
As long the Hi-Pen stays within a short distance of the pen stand, it's recognized by the pen stand. However, when the user of the pen takes it with him and leaves the room, the computer will shut down because the pen stand doesn't sense the Hi-Pen anymore.
Allwrite has applied for European and North American patents for its RFID-embedded pen, which is still in the prototype phase. Chips for the pen are supplied by Sokymat of Switzerland.