WinWare improves RFID tagging in CribMaster tool control solution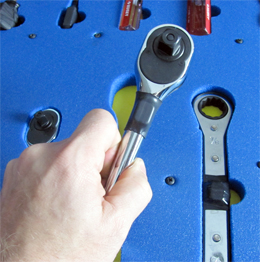 WinWare Inc. announced improved RFID tool tagging techniques that will support the company's CribMaster inventory management system.
Critical information including when a tool was removed, who used it, and when it was returned are all monitored with the CribMaster inventory management system. If a tool does go missing the RFID tool control system reduces search time to locate the tool, and reduces costly production delays.
WinWare consulted with end-users such as engineers, technicians, and aircraft mechanics for input on tag placement so as not to reduce the usability of the tool. Research also tested durability of adhesives to ensure a secure bonding of the RFID tag to the tool.
These advancements will offer total control in foreign object damage critical and tightly controlled environments such as aerospace and aircraft maintenance repair and overhaul.