Wooden shipping pallets in D.C. area contain deadly bacteria, study finds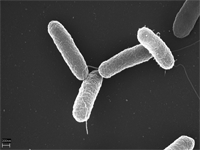 In a recent study, wood pallets used to ship food in the Washington Metropolitan Area have tested positive for three types of deadly bacteria: Salmonella, E. coli and Listeria.
The study was commissioned by Intelligent Global Pooling Systems (iGPS), which happens to operate a pallet rental service that exclusively uses plastic pallets embedded with RFID tags.
iGPS gathered samples from wood pallets located at markets and food retailers in the Washington, DC, and Baltimore areas, and submitted them to an outside scientific laboratory for testing. In a limited and random sample, over one-third of the pallets tested positive for one or more of Salmonella, E. coli, Listeria and extremely high bacteria counts – as much as 6.8 million spores per gram – indicating unsanitary conditions that could pose a food-safety risk.
Last month iGPS sent a letter to the U.S. Food and Drug Administration (FDA) calling upon the agency to launch a full investigation into the use of wood pallets in connection with the storage and shipment of food.
The issue of wood pallet safety is particularly timely and relevant as Congress considers new legislation that would require the FDA to create a better system for tracing food in the wake of several high-profile recalls of contaminated food in recent years.
iGPS has released a video concerning wood pallets viewable here.