World leading CARTES exhibition to take Paris by storm in early November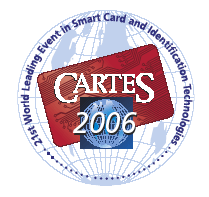 Smart card and identification technologies on display for the world to see at the industry's biggest and best event
What's in a card? Well, apparently plenty, judging from what's ahead at this year's CARTES scheduled for Nov. 7-9 in Paris at the Paris-Nord Villepinte Exhibition Centre.
"An 'Innovative Card Design' Exposition will disclose the latest card shapes, design, colors. You will discover how different a card can be," said CARTES General Commissioner Sophie Lubet.
In partnership with AFPC (the French Association of Card Manufacturers and service bureau) this exposition will focus on the trend toward customization, to make one card stand out from another. Banks have led the way. Now, with boosts from card manufacturers plus improvements in technology, innovations include transparent, fluorescent, perfumed, tactile, lenticular, and 3D or holographic cards in addition to unique shapes and custom-made backgrounds.
According to the conference program: "Cards that are shaped as chocolate bars or combs, designed for women, for 16-25 year-olds or for soccer team supporters … Is this a fashion fad or a long-lasting trend? Is this an evolution or a real revolution? … Cards are indeed becoming more and more a communication tool, a sign of belonging and a powerful marketing tool."
"This is one of many exciting features of the CARTES 2006 edition," said Ms. Lubet.
Last year for its 20th anniversary show, CARTES attracted 411 exhibitors and 18,468 visitors from 134 countries. Even more are expected this year, said Ms. Lubet, including 450 exhibits, marking the 2006 edition of CARTES the largest yet.
"Visitors will meet more exhibitors this year," said Ms. Lubet. "That means more products and services, more innovations, more networking and more business opportunities." The special World Card Summit will be "dedicated to the banking sector and its latest developments and changes," she added.
Why should someone attend?
"Because CARTES is widely recognized as the world's largest show dedicated to smart card and identification technologies," said Ms. Lubet. "Moreover, its Sesames Awards, the most coveted contest in the industry, highlight the innovations which will make the future!"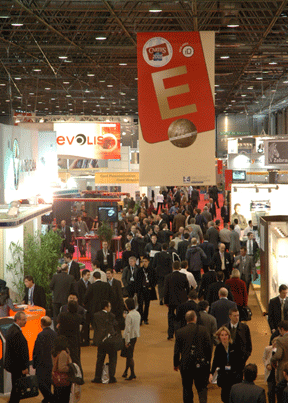 Another reason, she added, is CARTES' "high-level Congress that offers some 20 conferences about the latest issues…" About 200 speakers from around the world will participate this year. There will also be an opening session, "the World Card Summit," featuring CEOs from major card companies delivering their vision for the future. Based on the success of last year's summit, it has been expanded to a full day for 2006. Some of the topics to be covered include contactless, mobile phone, NFC, RFID, secured travel documents, authentication, access control and biometrics. In the morning CARTES visitors and congress participants will hear the manufacturers' opinions on the market and its evolution and in the afternoon the world of banking will present the status of the international market.
"Last but not least," she added, CARTES "will be a unique opportunity to discover the latest achievements on contactless technology, biometrics, secure documents, POS terminals, and more."
What to expect at this year's CARTES …
The IDentification area:
Launched last year, the IDentification Area offers solutions and technologies related to biometrics, secure documents, authentication, physical and logical access control, encryption, RFID and e-government.
Fueled by the U.S. government's push for more secure identity cards, "the identification market is booming all over the world and CARTES 2006 will definitely be the place to be," said Ms. Lubet.
In view of its success last year, the IDentification area will bring together companies offering solutions and technologies related to biometrics, document security, authentication, physical and logical access control, cryptography, RFID and e-government procedures.
With the deadline for complying with the FIPS 201 personal identity verification cards barely a week old, you can bet these will be hot topics during CARTES, particularly in the sessions related to identification. Also, the FFIEC (Federal Financial Institutions Examination Council) chose the end of 2006 as the date when American banks should have implemented strong authentication means to protect their most sensitive transactions. This convergence of regulatory pressures is playing a significant role in the ID market.
Spotlight on Canada:
Having recently migrated to the EMV (Europay/MasterCard/Visa) standard, Canada, CARTES' 2006 "featured country," is expanding contactless and identification technologies. As CARTES' guest of honor, Canada is the second North American country, after Mexico, to adopt the EMV standard for the mass deployment of smart cards in payment transactions.
Estimates are that 10 to 15 million EMV smart cards will be deployed next year, representing between 11% and 16% of 35 million debit cards and 56 million credit cards used in the country. The migration process is expected to take between three and five years with a projection of 100 million EMV cards to be issued by 2010.
The Sesames Awards for innovation:
The 2006 Sesames Awards will be announced on the eve of the opening day of the exhibition (November 6). The eleventh edition of this competition will include awards in Best Hardware, Best Software, Best Applications in Banking/Finance, Mobile, IT Security, e-Transactions, Identification, Transport, Customer Loyalty, and Health Care. During the exhibition, the nominees and winners will be grouped together in "The Sesames Area."
---
Day by day, the schedule shapes up like this:
Nov. 7: World Card Summit (all day); Identification in the Banking Sector; the Uses of Biometry; Card Basics; Tomorrow's SIM Card; RFID Solutions.
Nov. 8: E-Money; Multi-Applications; Electronic Components; Mobility; Personalization, Added Value Services; Theft Identity; Java Card; Access Control Systems.
Nov. 9: Loyalty and Gift Cards; Next Generation EPTs; Electronic Documents; Cards and Security; Contactless Solutions and its Applications; GlobalPlatform.
---

Additional resources:
For more information on CARTES or to register, visit the show's web site: www.cartes.com.

Compare FIPS 201 Products
Research and evaluate FIPS 201 Approved Products and get the latest info on compliant credentialing systems at FIPS201.com.
Click to visit FIPS201.com
.