Your Meter is Expired: New technology curbs expired meters via mobile phones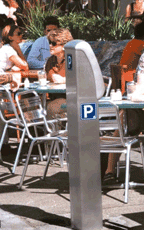 By Dee Ann Kuhn, Contributing Editor
Drivers in Las Vegas no longer need to scrounge around for change to load parking meters thanks to a new system that enables drivers to pay their parking fees and avoid parking tickets using their mobile phones. Irvine, Calif.- based Reino Enforcement Technologies has deployed 15 multi-space parking meters, covering 150 on-street parking spaces in downtown LasVegas equipped with micropayments technology. The mPARK service enables motorists to register their credit card information and mobile phone number via a toll-free phone service or over their website. That information is then used to deduct meter fees and notify users 10 minutes prior to their meter expiring via a mobile phone text message. Registered users then have the option of reloading money onto their accounts via their mobile phones.
"With the continuing increase in parking fees and rates, it's become a struggle for motorists to pay for parking," acknowledges Mark Ralston, executive vice president of operations for Reino Technologies. "We looked into applying alternative forms of payments (credit, debit and smart cards) into the parking environment. The mPARK system makes it so much easier for people to pay for small payment transactions using their mobile hand sets."

The Las Vegas city council has replaced its on-street parking meters with 15 multi-space meters in the city's downtown business district. Key to the system is the expired meter notification, which allows busy legal professionals going into the courthouse across the street, the peace of mind of never having to worry about expired meter fines. The system allows registered users to call back into the service to reload funds onto the meter via their credit card information previously stored in Reino's database.
Users of the system only have to register their credit card information once. The automated voice response system matches the credit card information registered to the user and then prompts them through the parking process. Although the system is in its infancy in Las Vegas, public response to the pay by cell phone concept has been outstanding, says Ralston. A similar test using the mPARK technology is now taking place in Oklahoma City, involving 60 parking spaces.
In addition to the automatic reloading function, users can access Reino's website www.mparkusa.com to track their parking meter account transactions as well as sign additional family members to the plan, sort of like a "Friends and Family plan," notes Ralston. After registering their payment information, users can then choose the account to be linked to multiple cell phone numbers. Reino offers similar capabilities for small businesses to pay upfront for their parking fees, as well.
Payments processor Peppercoin Inc., Waltham, Mass., processes the cell phone payments using its Small Transaction Suite software. Mark Friedman, Peppercoin president and CEO, says the mPARK program is an ideal market opportunity for the payments processor, citing transactions with price points under $5 now represent nearly a $1.32 trillion business.
Meanwhile, Ralston says other cities plan to go live with the mPARK technology in the next couple of months. Once motorists register with the program, they can access the service anywhere in the country where mPARK is deployed. "We see the technology to be widely accepted with continued use. It's all about motorist convenience."