Zetes' ePOD combines smart cards and RFID for proof of delivery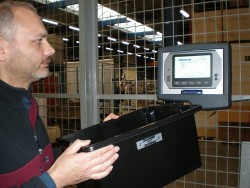 Zetes has unveiled the ultra high frequency Gen2 ePOD system for facilitating electronic proof of delivery. The ePOD combines smart card technology along with RFID and bar code scanning to help optimize tracking and tracing, while reducing return claims and shrinkage.
Easily set-up inside any company, the product requires no integration with existing systems and features software based on a touch screen interface. The wall-mounted system is designed to enable error-free traceability throughout the entire supply chain.
Smart cards are used to store the information of what is delivered and where it's stored. Containers and pallets labeled with RFID tags are passed in front the ePOD's RFID reader terminal to provide proof of delivery.
Physical proof is then stored on the smart card and uploaded to a repository for data and image verification reporting.