Nokia, NFC Danmark deploy NFC-enabled smart posters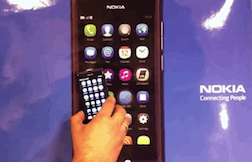 Nokia and NFC Danmark have teamed up to launch an NFC-enabled smart poster campaign in Telia stores across Denmark.
Customers of Telia, a major Nordic mobile operator, can now user their NFC-enabled N9 phones to tap icons on the posters (pictured) to instantly download mobile apps.
In addition to the posters, Nokia and NFC Danmark have also launched an NFC-enabled pinball machine and an NFC-enabled vending machine – a world's first, according to NFC Danmark.
Click here to see a video demonstration (in Danish) of the smart poster in action.