A global leader in contactless transit systems, Thales sets its sights on North America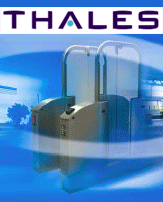 By Andy Williams, Contributing Editor
Thales has become one of the dominant forces in the European and Asian transit card markets. Now, it's turning its eyes towards another large market: North America.
"In the U.S. many years ago we supplied Boston, LA, Baltimore; San Francisco Bay Area and others," said Ian Woodroofe, Thales' sales and marketing director for Transport & Energy activities in Brétigny-sur-Orge, France. "We're just coming back in the U.S. market, and we're looking at projects now in Philadelphia, Los Angeles, New York, Cleveland, and Miami (in the U.S.) and Toronto."
As a secure systems integrator, Thales offers a broad range of solutions spanning public transport ticketing, conventional and electronic toll collection, fleet management and passenger information systems, urban traffic management and public car park management.
The beginnings
Thales got its start more than 100 years ago following a merger of an American company, Thomson Houston International, with a group of French industrialists. The new company was called the Thomson Group.

"We started in the electrical contracting business," said Mr. Woodroofe. Over the decades and through a series of mergers and acquisitions, the company now bills itself as a global electronics company serving aerospace, defense, security and services markets worldwide. The name did not change to Thales until 2000. It considers its birthplace as France, but has operations in more than 30 countries. With 61,500 employees, the Thales Group generated 10.6 billion euros in revenues in 2003.
For more than 30 years, Thales has provided public transport operators with payment system services to improve passenger flow and electronic transaction security. Thales considers itself the market leader in Asia and has integrated card systems for public transport networks in numerous cities and regions worldwide.
"We have six divisions," explained Mr. Woodroofe. "Two thirds of our business is in aerospace and defense and the rest is focused on security and services. We are (public transport) within the business line of the security division."
"…we're unique"
In the public transport arena, Thales considers itself a system integrator. "But we're unique because we also supply the equipment for all modes of transport systems," adds Mr. Woodroofe. "We have faregates, automated vending equipment, card validators, and the core module behind that, our own contactless smart card reader."
But the company also seeks outside vendor support "when we can't meet all the client's requirements," said Mr. Woodroofe. "Integration according to open architecture standards allows us to do this."
While the company is No. 1 in Asia, said Mr. Woodroofe, its largest project is in Europe for a "complete e-ticketing system for all of the Netherlands, including its rail system and the largest bus operators. We're supplying the complete system with five years operation."
The Netherlands, India, Asia …
Thales is part of the East-West Consortium in partnership with Accenture for the Netherlands project. The card technology for the project is Mifare by Philips and a pre-launch is expected in January. "ASK is supplying part of the cards; as is Axalto," said Mr. Woodroofe. "We'll probably have upwards of five million cards in service. Accenture supplies all the operations resources and we are the integrator and the leader of the supply consortium."
Another Thales project is the Delhi Metro project in New Delhi, India. Says Mr. Woodroofe, "we supply the smart cards and smart tokens for the metro system, the gates and selling equipment for the first three lines of the Delhi Metro. We also supply Bangkok, Singapore, and Nanjing (China) all with contactless smart cards and contactless tokens," he added.
Thales and Nanjing-based Panda created a joint venture called Nanjing Thales Panda Transportation System Co., Ltd. to supply the contactless smart card automatic fare collection system for the Asian market.
The Taipei metro will be fully contactless, incorporating in new gates the use of contactless smart tokens for occasional or single trip travelers. These tokens will be directly recyclable in latest-generation access control gates with retractable flaps, which will help facilitate passenger flow. The system will be installed in more than 100 stations and will comprise around 1,500 access control gates, 700 automatic token vending machines, 250 ticket office machines and 160 information terminals. The initial installation at pilot stations is scheduled to begin in 2006. All existing lines will be equipped by 2009. The Hsinchuang, Luchou, Nankang and Neihu extensions, currently under construction, will be equipped by 2012.
Oslo's integrated system
"We're supplying the Oslo (Norway) urban transport operator with a complete integrated ticketing system–buses, tram, rail, ferry," said Mr. Woodroofe. "It's fully integrated using a smart card and a smart ticket. The technology to be used is ISO 14443 Type A, specifically Philip's Desfire. We chose it for Oslo's security requirements and the way they wanted to manage different products on the card. It allows the client a future choice of what he does with the card, such as transport, station sales, parking."
The Oslo project came about in 2003 when Thales was named by AS Oslo Sporveier, the public transport operator for the city, to supply the fare collection system for its transport network. When fully implemented, the project will provide an integrated fare collection system for 260 buses, 72 trams, seven boats, 103 metro stations, and ten point-of-sale terminals. The paper tickets will be replaced by a combination of contactless smart cards and contactless disposable tickets.
The future
"Right now it's just a question of priorities," says Mr. Woodroofe. "We concentrated on Asia and Europe where we're No. 1. Now we need to concentrate on North America to keep growing our clients."
Thales is also keeping tabs on what the future might hold, such as using cell phones as contactless tickets. "There have been some trials, such as in Hong Kong and by Nokia, and it works," said Mr. Woodroofe.
Another trend, he says, "will be a convergence between a smart card and e-cash. Take London or Paris where you have three million people using tickets daily. E-cash regulations are coming out that will push people to develop these new concepts. In The Netherlands, Paris and Oslo, this is in the conception phase of how that should be managed. Within the next five years, this will be one of the key issues on how we comply with the e-cash regulations. It will open up a whole new market."
Visit Thales on the web at www.thales-transportservices.com.