From transit to passports and access control to payments, Thales deploys ID solutions around the globe

By Andy Williams, Contributing Editor, AVISIAN Publications
Global systems operator Thales is more than just a transit/transport integrator utilizing smart cards. Lots more. Try aircraft carriers, global positioning systems, air traffic control, contactless payments, passports, unmanned aircraft, and … well, the list goes on. Even Louvre security has a spot on Thales' menu of services.
The company was created in 1893 when electricity was in its infancy. Through a series of mergers and purchases it became Thomson-CSF and, in late 2000, was rebranded Thales after the merger with the UK electronics group RACAL. It shares its name with the Greek mathematician, philosopher and, possibly engineer, who lived more than 2,600 years ago. "As one of the fathers of modern geometry, and one of the first engineers ever, it is not difficult to imagine why he gave his name to the Thales Group," said Pierre-Antoine Benatar, director of marketing for Thales Transportation Systems.
While Thales started in the electrical contracting business, it now bills itself as a global electronics company serving aerospace, defense, and security markets worldwide. It considers its birthplace as France, but has operations in more than 30 countries. With 60,000 employees, the Thales Group generated gross revenues of 10.3 billion euros 2004.
"We are an international company with global reach and a strong focus in the European market," said Mr. Benatar. The company has three main operations: defense, aeronautics, and security.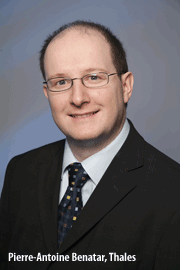 Headquartered near Paris, one of the company's many specializations is in smart card transit integration, but its diverse offerings also include providing electronics for aircraft carriers and producing the Magellan GPS system.
In defense, "we provide everything electronic, from radars, sensors, radios and communications. We're jointly developing the UK aircraft carriers and also for the UK we're building its unmanned aircraft vehicles," said Mr. Benatar.
"There is a lot of cross fertilization between markets," he said. For example, unmanned aircraft, similar to the Watchkeeper designed by Thales for the UK MOD, could have civil use as well, such as checking out pipelines in wilderness areas.
"A large amount of our income goes into research and development to allow for this cross fertilization, to enable us to make the leap from the civil world into the military world and of course exploit military security technologies into civil activities," he said.
"In aeronautics, anything you can think of electronically that can go into an airplane, we do. For example, we designed the cockpit for the new Airbus A380, the largest people carrier yet, capable of holding up to 555 people," he added.
"We also provide cockpit training and simulations for the new Boeing 777 aircraft for pilots and an air traffic management system for airports. We are able to build a turnkey Air Traffic Management (ATM) system for airports. We're also involved with in-flight entertainment systems. It's quite a complex electronic system to deliver entertainment to each seat. We're very much R&D focused on delivering state of the art electronic systems to our customers."
A focus on smart cards …
Where Thales shines in the use of smart card technologies, though, is in security, which involves three areas: transit/transport; physical and logical access control; and contactless payments, said Mr. Benatar.
"Our security division deals with civil security (not involved with defense) where we serve governments and businesses alike for their security needs. We have a security integration business, and we also deal with transportation and energy. We have an e-security business that focuses on banking and government security; electronic terminals which provide secure payment terminals for retailers; all that is under our security division," said Mr. Benatar.
"Transit is our biggest market for contactless technology and where we have most of our experience," he added.
"We've been in transport for many years, mainly in the transit-ticketing business, but also in the development of safety systems for transport trains. When you have a train system, you need to have an operation center where you can control all the trains' activity. This supervision center gives you the position of all those trains, to ensure passenger safety and avoid a crisis situation."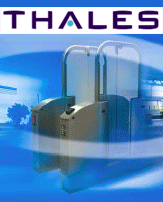 The first priority for transportation ticketing systems is passenger flow, moving passengers through the system smoothly with minimum waiting times, while providing secure transactions. "What we've delivered for more than 30 years is a fare collection system, first based on paper, then magnetic technology, now contactless technology. Our main focus today is helping transport authorities and operators migrate to contactless. Most systems are based on magnetic tickets today, except for certain modes of transport, like intercity buses, where you can still find paper tickets."
Overwhelmingly contactless …
He estimated that 90% of Thales business in ticketing is contactless today. "Contactless is the next revolution in fare collection. It's the one we're living today because it delivers clear benefits to all involved," he said. "For the end user, it reduces waiting time and for transport operators it reduces the cost of ownership (maintenance costs primarily). In a contactless system, thanks to reduction in fraud and much lower maintenance costs for the system, the cost of ownership can be reduced by 20%, maybe more."
Thales is involved in more than 40 to 50 transit systems around the world. "Some are city level, but the trend today is for large, intermodal systems," he said.
Moving to a regional or country-wide system, "which is what we implemented in the Netherlands, citizens only need one card. We were the first in Europe to implement a country-wide system. It's a fully contactless smart card system. Even the paper tickets have a chip on them. We had to deal with five different operators, each with their own rules for calculating fares." But the advantages for the end user are worth it. "Once we integrated the Netherlands system, we can now calculate the best trip for the traveler using multi-mode transports. We can automatically give you the best fare for your trip."
In Bangkok and New Delhi, Thales developed a recyclable smart token for implementation in their metro systems. "These recyclable plastic tokens are good for the occasional traveler. He gets a small token that he validates when entering the system. When he exits, he drops the token off at a recycling site," said Mr. Benatar.
"Each customer has its own business requirements. We're able to tailor those requirements to meet the needs of our customers. It made more sense in India and China to deliver recyclable tokens because of the sheer number of passengers, even though these smart tokens are a little more expensive."

Managing the end-to-end process …
While Thales considers itself a systems integrator, Mr. Benatar says it is also "unique because we actually control our core technologies and equipment. We control the entire design of our control gates, ticket vending machines, card validators, POS terminals, portable verifier machines, ticket issuing machines. More importantly, we have full control over the design of our core contactless card reader."
Most of Thales customers require the company to follow open standards for the cards, such as 14443 A and B, or Sony Felica. "Our readers can support all three types of standard cards," said Mr. Benatar. "The cards might come from different sources. We definitely want the ability to propose open standards. The customer doesn't want to be locked into one type of card."
He said Thales "surrounds itself with the right partners to deliver the best solutions to our customers." He uses the Netherlands project as an example. "For these projects, we partnered with Accenture and Vialis to create the East-West Consortium. Vialis installs and maintains the system's physical infrastructure, such as smart card readers and ticketing and fare machines. Accenture operates the system's back-office, which includes clearing and settlement of revenues for the participating transport companies. "
Another example is the joint venture between Thales and Panda in Nanjing, China to provide services to the Chinese market for Integrated Fare Collection systems (IFS). The joint venture, called Nanjing Thales Panda Transportation System Co., Ltd., is what Thales calls a "milestone" in the collaboration between the two companies. By combining their forces, Thales and Panda are positioned to compete and succeed in the Chinese market, said Mr. Benatar.
"Thales provides its expertise in integrated fare collection systems and technology, areas in which the company is a market leader. Panda offers its experience in manufacturing in the Chinese marketplace," he added. Based in Nanjing, the joint venture is formed 60% by Thales and 40% by Panda. The new company, with Chinese production centers, also gains a competitive advantage.
"We can bring to the joint venture our knowledge and expertise of transportation and Panda can bring its expertise in local manufacturing," said Mr. Benatar. "China is already a big market for us. It has over 30 cities with more than one million people in each." And, of course, with the Olympics on its way to China, a lot of development will be taking place. For example, Beijing is rebuilding some of its metro systems, said Mr. Benatar.

ID and access control
"Electronic cards and passports are the center of concern for nations today," said Mr. Benatar. "The U.S. is pushing for development of such technology, the rationale being the capability to integrate biometrics on a chip. This is leading to increased security."
Thales, he said, has "an important role to play. We haven't been involved in the U.S. biometric race yet, but in late 2005, Thales became the first company to introduce on a national scale a secure ID card." In Morocco, "we're going to roll out 20 million (IDs) over the next four years. We're assisting the government in the entire process, production, biometrics, and all the security surrounding that. We are the integrator, and we expect the first cards to roll out in 2007."
This ID system includes both personal details and biometric data and meets new security requirements concerning travel documents. The solution includes ID document production equipment and software, high-security consumables and connectivity with the Automated Fingerprint Identification System (AFIS), which acquires digital fingerprints and compares them with a fingerprint database.
Access control is also a strong Thales suit. "We provide security for the Louvre," said Mr. Benatar. "We also secure banking sites, petrol refineries, where contactless cards can be used to access the buildings. The next step up is an integrated single card where you can use the same badge to open the gate and access your computer."
Payments as well …
In the contactless payments arena, Mr. Benatar said Thales has "two main involvements. First, is point of sale, where we're developing terminals helping merchants to support contactless technology. It's a fast developing and emerging market and we are trying to accompany our customers into the evaluation of that new technology. We want to ease acceptance by merchants and try to ease migration by issuers by facilitating support for contactless cards. We want to support both contact and contactless cards," he added. Even though Europe is knee-deep in EMV cards, he said "banks are now starting to think about the impact of contactless. They want to be ready for the next iteration of smart cards. Contactless is definitely coming although Europe is behind the U.S. in this area."

Next up for ticketing, the U.S.?
Thales was in the U.S. "many years ago," said Mr. Benatar. "We supplied Boston, Los Angeles, San Francisco, Baltimore … based on magnetic ticket technology. That was through one of the companies later acquired by Thomson." But competition forced them to temporarily abandon the U.S. market. "Now, we're back. We have operations in North America (on the West Coast and in Canada) and this is our next challenge."