ActivCard becomes ActivIdentity reflecting its expanding work in identity assurance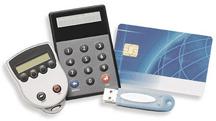 By Sara Pralle, Contributing Editor
ActivCard®, a leader in digital identity assurance, recently changed its name to ActivIdentity™ in an effort to reflect the migration from its initial focus on card-based solutions to its current focus on a wide range of identity solutions. "The timing couldn't be better," Julian Lovelock, the company's director for the Financial Services Group, told SecureIDNews. "The market as a whole is understanding the identity management concept now."
Founded in 1988, the Fremont, Calif.-based company developed a niche helping organizations secure access to information technology resources through the use of smart cards, tokens and biometrics. In 2000 the company raised $306 million upon its initial listing on the NASDAQ (it continues to trade under its current ticker symbol, ACTI).
In 2005 ActivIdentity acquired its closest competitor, Protocom Development Systems, and reported revenue in excess of $42 million. Globally, more than 10 million users now access the company's technology at leading enterprises and government agencies, such as Airbus, Hewlett-Packard, the U.S. Bureau of Land Management, Renault, and ST Microelectronics. The world's largest multi-function smart card deployment, the U.S. Department of Defense's Common Access Card, also relies on the company's technology
New Name, New Focus
According to ActivIdentity's Chief Executive Officer Ben Barnes, the change reflects the company's vision and alignment of its business with the high growth global identity markets. "Our new name more accurately reflects our business focus and position within the broader identity management market," Barnes explained. "This is more than just a name change; this move reflects a refinement in our position and focus."
The focus is to extend and leverage existing network infrastructure – utilizing directory-based services to manage the multiple digital identities and credentials associated with each employee or user. The integrated architecture allows clients to securely issue, use, manage and deploy additional components of digital identity infrastructure as needed.
The goal, says Barnes, is "to deliver best of breed proof of identity, digital signatures and credential management integrated with our industry leading … partners including IBM, Lenel, Microsoft, Novell, Oracle and Sun. Together … we deliver a trusted end-to-end identity management solution to help our customers meet voluntary and mandatory legislation such as eSign, HSPD-12, HIPAA, Graham Leach Bliley, FFIEC guidelines, Sarbanes-Oxley and BASEL II."
Primary markets include financial services, government, and enterprise as well as a newer focus on the healthcare industry. "Healthcare is coming into its own," says Mr. Lovelock, "due largely to (the need for) single sign-on" … where the company's products help ensure the privacy of medical data and rapid, secure access to patient resources in accordance with HIPAA guidelines.
In the financial services arena, ActivIdentity solutions enable institutions to secure banking channels, thwart phishing scams, and comply with the FFIEC's recent recommendations for two-factor authentication. This is accomplished, says Kristy Dennis, Corporate Communications Manger for ActivIdentity, "via the use of ActivIdentity Tokens, Authentication SDK, Solo II (a standalone smart card reader), and 4Tress, a multi-channel authentication server. The solution enables organizations and business customers to authenticate to each other … making the transaction extremely secure."
The Products
ActivIdentity's offerings include Secure Remote Access, Single Sign-On and Enterprise Access Cards.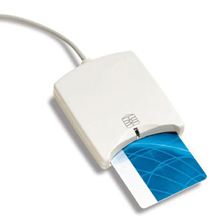 Secure Remote Access consists of three packages – Tokens, USB Keys or Smart Cards – that can be deployed concurrently to match a company's specific requirements. Users enter their PIN on their keyboard to access the credentials on their card. The ActivIdentity software then authenticates the user, configures the VPN session and makes a connection … all transparent to the user.
Single Sign-On helps organizations to prevent the identity proliferation that can compromise confidential information, revenue, compliance, and reputation. This solution particularly assists enterprises comply with e-business legislation, such as the Sarbanes Oxley, HIPAA and the Gramm-Leach-Bliley Acts by enforcing proof of identity, restricting users' access to information and auditing their application-level authentication activity.
Enterprise Access Cards includes a smart card and card management system to handle the issuance, post-issuance, auditing and administration requirements of a smart card program. The ActivIdentity card management system handles the cards and their associated credentials through their entire lifecycle – from issuance to revocation. ActivClient software currently enables about 6 million users to access PKI credentials stored on the smart card for applications, such as secure e-mail, digital signatures and secure web access.
ActivIdentity has development centers in the U.S., Australia, France and the United Kingdom and sales and service centers in more than 10 countries. With the growing need for identity security in the financial and healthcare industries, the company's new name reflects the forward-looking approach that is vital in the highly competitive industry of hardware- and software-based authentication.
---
Additional resources:
To visit ActivIdentity on the web, click here.
To review the company's financial services offerings, click here.

Compare FIPS 201 Products
Research and evaluate FIPS 201 Approved Products and get the latest info on compliant credentialing systems at FIPS201.com.
Click to visit FIPS201.com
.