While the RFID industry has focused in the last couple of years on developing complex hardware to meet commercial demand, a group of companies are beginning to push low-end, inexpensive tags that could eventually impact the supply-chain. These products use exotic fabrications or magnetic signature techniques to provide a low-cost automatic ID alternative to traditional silicon-based tags. For now, these niche technology developers are concentrating on products that will meet customers' immediate needs.
Two companies, both Israel-based, are beginning to put this new technology to work. One is already exploring the supply-chain market, while the other is focused on document protection now and, perhaps, supply chain later.
Printed antennas and thin, flexible batteries for long range RFID

Power Paper, located in Petah Tikva, just northeast of Tel Aviv, has licensed a technology abandoned when Motorola left the RFID market three years ago. The technology was called BiStatix, but has since been renamed and transformedinto the PowerID Printalix product that irelies on a printed–rather than wire–antenna. Explains the company's CEO, Shalom Daskal: "Motorola's BiStatix technology utilizes a unique and patented RFID communications system based on capacitive coupling, which uses printed carbon ink for the RFID antenna, contributing to greatly reduced label costs. The capacitive coupling method also brings increased packaging flexibility and materials compatibility, allowing RFID labels to be attached to a wide variety of items."

Motorola's technology coupled with Power Paper's printable micro-power source, "paves the way for the ultimate low-cost printable RFID label," he said.
Low cost, because it greatly simplifies the manufacturing process eliminating the coil-winding and metal-deposition procedures used to create wire antennas, instead uses a flip-chip direct die attachment.
"Power Paper is developing its PowerID Printalix system to be a high value, cost-effective semi-active label system, opening vast new markets due to the low price," he continued. "The PowerID Printalix labels can be applied, or printed onto, packaging for all retail goods, food, pharmaceuticals, postal items, and smart forms and tickets, among others."
His vision is of item-level management on the shelf. "Essentially, the shelf itself fits well into the capacitive coupling technology utilized by BiStatix. Due to the technology advantages of replacing an antenna with carbon ink, the tag can be bent without negatively affecting the performance of the label. This means that it can be printed directly onto packaging in any shape or size," said Mr. Daskal.
Beyond the cost savings, there are other benefits, he said, such as:
Stability of operation: "Because the carbon ink acts as a capacitor plate, tears, punched holes, and folding will not cause inoperability of the Printalix label"
Orientation flexibility:"Printalix labels are orientation insensitive and are therefore easier to apply"
Conforming form factor:"Printalix can be applied to almost any physical configuration due to the fact that the antenna is replaced by carbon ink"
Thin, flat tags: "Because of Printalix's antenna-less construction and its thin, flexible battery, the tag thin and flat."
Power Paper claims this will prove to be a recipe for success for companies seeking low-cost supply-chain management. " We intend to make Printalix the leading label for the CPG supply chain," added Mr. Daskal.
Mixing chemical "paints" to communicate data
Another company, CrossID, is focusing on document protection with its chipless remote readable tags that its founder and CEO, Moshe Glickstein, describes as a unique (RFID) physical/chemical signature that can be compared to DNA. But document protection is only the start. The company has its eyes on a bigger share of the RFID market in the future, first with "bank notes and passports, etc., and only after that, in retail environments like Wal-Mart," said Mr. Glickstein.
Here is his explanation of how CrossID's technology works: "By taking sawdust portions of several (n) materials and attaching them to an entity, a signature could be created with 2n combinations. This signature can be identified from a distance of several meters. The system uses nanometric materials—tiny particles of chemicals with varying degrees of magnetism, that resonate when bombarded with electromagnetic waves from a reader. Each chemical emits its own distinct radio frequency, or note. This is picked up by the reader, and all the notes emitted by a specific mix of different chemicals are then interpreted as a binary number. Since the system uses up to 70 different chemicals, each chemical is assigned its own position in a 70-digit binary number."
As an example, if the chemicals A, B, C and D were assigned to the first, second, third and fourth positions in the 70-digit number, then a mixture consisting of A and C would represent the binary number 1010 followed by 66 zeros.
The company is still in the experimental stages, he added. "We're testing readers that operate at 3 to 10 GHz, which is higher than the frequencies commonly used by wireless LANs and handheld computers, although the company has not made a final determination on what frequency the readers will use."
Because of its simpler construction, "The price per tag will be lower relative to all known RFID and other tags," claims Mr. Glickstein. Though the tags are not sold yet, he predicts the availability of a 1-cent tag in a year's time.
One benefit for CrossID's "communication materials," as it's currently known, over traditional RFID (EPC) tags, is that "you can print them as easy as a barcode," said Mr. Glickstein. "Printing the barcode with our ink and the transmission from Barcode to CrossID is smooth and gradual," he added. Another advantage: It will withstand wet and other tough environments, he said.
EMID technology hides inside blister packs and other packaging
Another company putting magnetic tags to work is Flying Null out of Manchester, United Kingdom. Its aim is to prevent counterfeit drugs and, towards that end, is marketing a tag that can be embedded directly in blister packs.
"The tags are in pre-production trials at this time," said Flying Null's Ian Wills. "The applications include traceability tags being incorporated into carton seals for pharmaceuticals, batch tags onto blister packs (to be read through the carton), and cigarette traceability tags. Other emerging markets include security seals for CD/ DVD's, high value consumables such as printer cartridges, and bottled spirits."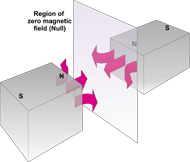 The embedded electromagnetic identification (EMID) tags "work by creating a code out of small (typically 1x1mm) magnetic elements which are arranged to define a spatial coding scheme," he said. "When the read head is passed over the elements, they are magnetically activated and the read head picks up a signal from them as it is passed along the tag. The reader software establishes the size of the gaps between the elements. The gaps are divided into the increments that have been predefined in the tag parameter setup in the hand reader. The gap division values are counted and entered into a lookup table and a numeric value is generated."
Since the tag can be read through the aluminum of a blister pack, or a bottle cap, according to the company, the packaging doesn't have to be opened to confirm the authenticity of the contents.
The EMID tag can be applied using standard self adhesive label applicators, wet glue applicators, and hot stamping processes (directly onto the product label or carton thus saving the cost of any label), said Mr. Wills. "There is often little capital investment required to integrate them into existing products and processes. The technology is entirely scalable providing a much lower function entry point therefore enabling the user to select the appropriate level (and cost) to their requirements."
Another advantage of the EMID tags, he said, is that they are more durable than RFID in that they can withstand gamma ray sterilization, freezing, boiling, and microwave.
Since EMID "is suited to close read item level tagging," they aren't well-suited for normal retail supply chain management.
Conclusions
The jury is still out–and likely will be out for quite some time–on whether these new kids on the block will ever be competitive with their big brother antenna-laden tags. While alternate tag technologies struggle to find a market willing to risk the adoption of a system outside the mainstream, the prices of traditional tags continue to fall. These companies will have to define their own applications, a tough job when competing with major manufacturers.