American Express Begins Issuing Contactless Payment Cards Nationwide and Signs 7-Eleven, Inc. as Newest ExpressPay Merchant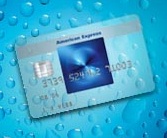 American Express has begun issuing Blue from American Express with the ExpressPay feature in all 50 states. ExpressPay, a contactless chip for easy, convenient and secure payment, will be embedded in all new Blue from American Express consumer and small business credit cards moving forward. In addition, the Company announced 7-Eleven, Inc. as the latest national merchant partner to accept ExpressPay. ExpressPay adheres to ISO 14443, the interoperable standard that has been adopted by the major payment brands for conducting contactless payments. 7-Eleven currently has ExpressPay-enabled readers in 170 stores in a test market and plans a full roll out to its more than 5,300 U.S. stores by early 2006.
ExpressPay is a new payment feature that consists of a secure computer chip powered by RFID. Blue from American Express also has a magnetic strip and functions as a traditional credit card.
"We are very pleased with ExpressPay's momentum in the marketplace," said David Bonalle, vice president and general manager of Advanced Payments for American Express. "Blue with ExpressPay will allow us to get more cards with contactless payment functionality into the hands of our customers nationwide, and help consumers and merchants reap substantial benefits in terms of speed and convenience. In addition, we have a new, broad-reaching ExpressPay partner with 7-Eleven."
American Express has been testing ExpressPay since 2002. The pilots
involved many thousands of consumers making more than a million transactions with ExpressPay at hundreds of merchants. Test results showed that, on average, ExpressPay transactions are 63 percent faster than using cash. Market research with pilot participants also confirmed that consumers view convenience and simplicity of use as two of the major benefits. Important merchant benefits include reduced transaction time and increased spending relative to cash.
Many leading point-of-sale (POS) and reader manufacturers are integrating radio frequency (RF) technology into their POS equipment, enabling them to read ExpressPay and other contactless payment products. The adoption of a common standard as well as the availability of low-cost RF solutions for the POS that are simple to implement is facilitating the rapid acceleration of contactless payments in retail environments globally. In addition, ExpressPay contains a robust set of fraud prevention features. Customers also are not liable for any fraudulent ExpressPay charges.