Contactless Payments: Delivering Merchant and Consumer Benefits

Reprinted with the permission of the Smart Card Alliance
Millions of U.S. consumers are already paying for purchases using contactless payment devices, with millions more expected this year as new financial industry-backed contactless payment initiatives are launched nationwide. Consumers love the convenience and speed of paying with a contactless card or fob–no more fumbling for cash, counting change, or worrying about whether they have enough cash for a purchase.
American Express, MasterCard and Visa have introduced contactless payment methods that help to standardize the technology and provide a reliable solution that can be easily used by consumers and cost-effectively implemented by merchants and acquirers. Both MasterCard PayPass™ and American Express ExpressPay™ implementations and Visa contactless specifications are based on the ISO/IEC 14443 standard and rely on the existing credit/debit card infrastructure to process contactless payment transactions. These payments typically replace cash or debit transactions, although they also replace low-value credit transactions.
According to Ariana Michele-Moore of the U.S.-based research firm Celent Communications, three market segments are particularly ripe for the introduction of contactless payment: fast food restaurants, movie theaters, and video stores. These segments generated $160 billion in sales in the United States in 2002, of which almost 95% were cash sales. According to Michele-Moore, by 2007 contactless devices will account for 8% of the market represented by these three segments.
This article describes the financial industry-backed contactless payment initiatives and summarizes the consumer and merchant benefits that have are helping to drive the business case for contactless payment in the U.S.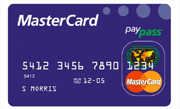 MasterCard PayPass
MasterCard PayPass™ is a new contactless payment program that provides consumers with what MasterCard calls "The Simpler Way to Pay™." Consumers tap or wave a payment card or other PayPass device on a specially equipped merchant terminal, eliminating the need to swipe a card through a reader. The PayPass solution, introduced in 2002, targets quick payment environments where speed is essential, such as quick-service restaurants, gas stations, drug stores, supermarkets, and movie theaters. After successful pilots in Orlando, Florida, and Dallas, Texas, MasterCard is now proceeding with plans for MasterCard PayPass deployments in additional locations and is planning to start broader consumer deployments in several U.S. markets in 2004.
MasterCard International recently concluded a PayPass trial in Orlando, Florida with Chase, Citibank, and MBNA, that involved more than 60 retail locations and 16,000 cardholders. PayPass cardholders used their PayPass cards 23% more often than during the same period a year earlier, and the dollar value of their purchases (including purchases made using magnetic stripe technology) increased by 28%. PayPass usage continues to expand in Orlando.
PayPass also moved customers through checkout lanes more quickly. The most significant time savings have been recognized in the drive-through environment, where PayPass shaved between 12 to 18 seconds off the purchase time as compared to cash. (According to former McDonald's CEO Jack Greenberg, unit sales jump 1% for every 6 seconds saved in drive-through lanes.)
In Dallas, Texas, MasterCard incorporated PayPass into Nokia mobile phones. A contactless chip and an RF circuit were embedded into the Nokia SmartCover phone. The chip was programmed with MasterCard payment account information. Initial results from the Dallas trial reinforce the conclusion that speed and convenience are the leading consumer benefits of contactless payment.
Implementation of PayPass is straightforward. PayPass uses standard credit card data for the payment transaction, leveraging the existing magnetic stripe-based payments infrastructure. Using Track 1 and Track 2 data allows merchants to retrofit current magnetic stripe POS terminals cost effectively to accept PayPass cards.
PayPass has been used successfully at a variety of merchant locations, including gas stations, movie theaters, quick-service restaurants, convenience stores and general retail establishments.
By the end of 2004, MasterCard expects there to be millions of PayPass cards in the United States.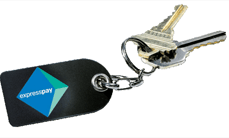 ExpressPay from American Express
ExpressPay from American Express is a contactless payment initiative that offers a quick and convenient way to make everyday purchases. ExpressPay uses a contactless smart chip built into a key chain attachment. American Express is piloting ExpressPay in Phoenix, New York City, and Singapore. To make a purchase, users simply hold the key fob next to a contactless reader. The payment information is passed from the fob to the reader in milliseconds. Payment is authorized via the existing magnetic stripe payments infrastructure, and no signature is required.
Over 400 merchant locations in Phoenix and New York currently accept ExpressPay, including CVS/pharmacy, Blimpies, Baskin Robbins, Carl's Jr., Dairy Queen, Chevron, and Fry's (Kroger). Over 200 merchants in Singapore currently accept ExpressPay, including BP and Starbucks. More than 15,000 key fobs have been issued in all three locations.
According to American Express, the ExpressPay pilots in progress produced the following learnings:
ExpressPay is faster than other payment methods. A time-motion study revealed that, on average, ExpressPay transactions are 53% faster than paying with payment cards with no signature, and 63% faster than cash.
ExpressPay demonstrated spend lift. The ExpressPay pilot results show that customer spending at participating merchants increased 20 to 30% compared to cash spending.
Consumers immediately see the value with ExpressPay. In a survey of pilot participants, 93% of ExpressPay users indicated that they would "definitely" or "probably" use ExpressPay in the future if it were widely available. Furthermore, 87% agreed that ExpressPay is better than cash, and 82% agreed that it is better than cards. The pilots also showed that consumers will use ExpressPay daily, even if it is accepted in only one location.
Merchants appreciate the speed of transactions and convenience of processing ExpressPay.
The full ExpressPay rollout will include multiple form factors, and ExpressPay on a card form factor will be available in the near future. American Express consumer studies found that two-thirds of the respondents prefer the convenience of the key fob, while one-third prefer a card that can be carried in a wallet, primarily because a wallet is more "protected" than a set of keys.
Visa
In the United States, Visa USA, in partnership with Bank of America, conducted an RFID-based contactless payment pilot, QuickWave, in Charlotte, North Carolina, with Bank of America employees. Launched in October 2002, the 6-month QuickWave pilot used a keychain mini-card that linked QuickWave account information to a credit or debit card account for processing through the traditional bankcard infrastructure. Bank of America issued 2,000 contactless payment devices, and about 30 different merchant locations participated (primarily in the quick-service restaurant segment). The QuickWave pilot also included a robust loyalty program and application that was linked to the merchant POS. The pilot ended successfully, with consumers valuing the speed, convenience, and ease of use, and merchants valuing the increased speed of the transaction. Bank of America is currently evaluating the case for broader deployment of contactless payment alongside traditional magnetic stripe payment.
The preferred Visa contactless transaction model for the United States uses the ISO/IEC 14443 standard to transmit Track 1 and Track 2 information, leverages existing merchant and acquirer infrastructure, and follows traditional credit, debit, and prepaid payment models. The contactless payment transaction is processed by the existing bankcard infrastructure, and the authorization and settlement processes are the same as for a magnetic stripe card.
In September 2003, Visa released a new specification for contactless payment based on the ISO/IEC 14443 standard combined with the EMV credit/debit standard. The new specification allows a dual-interface chip to carry a smart Visa debit/credit EMV application for use in both contact and contactless environments. It also outlines requirements for a magnetic stripe-based contactless solution.
Consumer and Merchant Benefits
To be adopted by consumers and merchants, a new payment product must deliver real benefits. Current contactless payment pilot programs are demonstrating both consumer and merchant value. The table below summarizes the merchant and consumer benefits.
Consumer Benefits
Faster check-out times
Easier to use–no slips to sign, no PIN to remember, no fumbling for exact change, and no need to check for correct change from the merchant
Choice of form factors
More available cash in the wallet for essential incidentals
More purchasing ability, not limited to available cash
Ability to track low-value transactions
Option to pay for low-value transactions using a credit card
Improved security–consumer control of the card throughout the transaction, no card and account details revealed to a third party and new security functions
Fun to use
Merchant Benefits
Faster throughput, speeding consumers through the checkout process
Increased revenue from increased consumer spending
Improved operational efficiency–less cash handling and reduced pilferage, fewer personnel on site, improved payment terminal reliability
Increased customer satisfaction–more efficient purchases
Improved information about customers
Potential to co-brand payment devices
Opportunities for competitive differentiation
Merchants can implement a contactless payment solution quickly and easily and start accepting the contactless payment cards and fobs that are now being issued. American Express, MasterCard, and Visa have standardized on a single contactless payment standard in the U.S., ISO/IEC 14443, and are implementing or recommending a contactless payment approach that leverages the existing payments infrastructure. What this means is that merchants can easily add a contactless RF payment terminal to their existing POS systems and start accepting contactless payment. The business case for certain retail segments shows significant increases in revenue with a modest investment.
The combination of positive consumer experience, standards-based technology, potential to use the existing payments infrastructure, and support from major financial industry players offers compelling business drivers for contactless payment. Merchants who can benefit from faster transaction speeds and increased consumer convenience should assess the business case for upgrading POS systems for contactless payment and take advantage of the nationwide rollout of financial industry-backed contactless payment solutions in 2004 to create a strategic competitive advantage and increase sales.
References
American Express ExpressPay web site, www.americanexpress.com/expresspay
"Contactless Payments: Delivering Merchant and Consumer Benefits," Smart Card Alliance report, April 2004.
Interview with Betsy Foran-Owens, Vice President, Product Services, MasterCard International, February 13, 2004.
Interview with David Bonalle, Vice President and General Manager of Advanced Payments Development, American Express, February 4, 2004.
Interview with Kelly Kruse, VP, Strategic Planning, Bob Maloney, VP, Debit/Emerging Payments, and Ellen Endicott, Senior VP, Government Card Services, Bank of America, February 10, 2004
Interview with Pam Skonicki, Director, Product Innovation and Coordination, Visa USA, February 26, 2004.
"MasterCard Orders Pay-With-A-Wave Chips," CTWeekly, December 10, 2003.
MasterCard PayPass web site, Fact Sheet, www.paypass.com
"The Rush to Contactless Payments," Card Technology, January 2, 2004.
This article is extracted from the 42-page Smart Card Alliance report, "Contactless Payments: Delivering Merchant and Consumer Benefits," developed by the Smart Card Alliance Terminal and eTransaction Infrastructure Task Force and published in April 2004. Lead contributors to the report included: American Express; Atmel Corporation; Axalto; Bank of America; First Data Corporation; IBM; Infineon Technologies; JCB International Credit Card Co.; MasterCard International; U.S. Office of the Comptroller of the Currency; VeriFone; Visa USA; ViVOtech; Washington Metropolitan Area Transit Authority (WMATA).
The full report is available to Alliance members from the members-only section of the Smart Card Alliance web site and to the general public at the Alliance web store at www.smartcardalliance.org
---
To purchase a copy of the complete 42-page report from the Smart Card Alliance, click here.