Atlanta's contactless transit card to add parking payments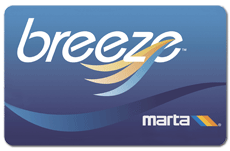 Starting in June, Atlanta's MARTA transit system will conduct a one-month pilot for parking payment using the system's contactless Breeze Card. Cubic will provide the parking equipment in MARTA's park-and-ride lots for the pilot. Controllers will accept Breeze Cards or Breeze Tickets and current plans are that there are no parking fees for patrons who enter the lot, ride on the MARTA system, and exit the lot on the same day.
Cubic Parking Solution for Nation's First All-Contactless Public Transport Smart Card System to Be Featured at Parking Conference May 20-23

Cubic, MARTA to Start Parking Pilot June 1
SAN DIEGO, CA – (MARKET WIRE) – May 20, 2007 – The parking solution for the Metropolitan Atlanta Rapid Transit Authority (MARTA), which has the nation's first all-contactless smart card system for public transport, will be featured at the International Parking Institute's annual conference May 20-23 in Tampa in a presentation from Cubic Transportation Systems, Inc., a subsidiary of San Diego-based Cubic Corporation (AMEX: CUB).
David deKozan, vice president of marketing for Cubic, will address the approach being developed by Cubic and MARTA utilizing the agency's Breeze smart card. With transit agencies looking at approaches for commercial partnering between transit and parking, this case study will discuss opportunities for park and ride facilities, airport parking, conventional garage applications, and on-street parking.
"Breeze" is the new state-of-the-art fare collection system designed and delivered by Cubic for MARTA. The Breeze system collects fares using smart cards instead of tokens or magnetic stripe cards and features include faregates; parking terminals; interactive Breeze vending machines; terminals on buses and paratransit vehicles; and a state-of-the-art computer system that provides comprehensive reporting and control functions.
Launched last fall, Breeze currently gives riders the ability to pay for their rail and bus fares with either of two types of smart cards, one the Breeze Card, a reusable, plastic card designed to be used by most MARTA customers, or the Breeze Ticket, a limited-use paper smart card designed to be used by visitors.
Beginning in June, Cubic and MARTA are launching a one-month pilot for parking payment which, when completed, will provide a seamless transition for riders who are now experiencing the benefits of smart card technology. Cubic's parking solution will provide a global replacement for all parking equipment in MARTA's park-and-ride lots and will be available at MARTA's lots by this fall.
The parking system will include entry and exit controllers which accept only the Breeze Card or Breeze Ticket. The entry controllers also issue Breeze Tickets to patrons who do not have a smart card in their possession. There are no parking fees for patrons who enter the lot, ride on the MARTA system, and exit the lot on the same day. For those who park and ride for more than one day or for those who park in the lot but do not ride the system, the fees can be paid via stored value debits at the exit controller or at either ticket vending machines or cashier terminals upon exit.
The entry and exit controllers are designed to provide audio feedback to customer actions such as the tagging of a Breeze card, as well as to give card and payment status via a VGA patron information display. The system supports Voice over Internet Protocol, also called IP Telephony, to enable the routing of voice conversations over the Internet or through any other IP-based network. By eliminating the need for dedicated wiring and allowing for call rollover to one or more remote locations, this will provide MARTA the flexibility to station customer service agents where needed while giving them the ability to respond in real time to customers who may have card issues at the entry controller.
The "Breeze" system features an open-architecture platform that includes the Cubic Tri-Reader® and Nextfare® terminal architecture, giving operators a choice of any ISO (International Standards Organization) 14443 Type A or B smart card types. The Nextfare central system also delivers the core modules for transaction processing, reporting and clearinghouse functions. The Cubic entry and exit controllers will communicate with other devices and with the central system to report transactions and other event data, and obtain configuration and card management data.
The Cubic parking management system is a standard Windows 2000/XP PC running Cubic's parking software and related third party software. The parking management system facilitates the centralization of machine revenue and status reporting for maintenance and reconciliation of cash, as well as the ability to view and print reports.
Cubic's scalable system also serves as a platform for future expansion of the Breeze Card as a regional payment vehicle for parking operations throughout Atlanta. In recent months, Cubic has received more than $5.78 million in contracts to integrate four regional bus operators into the new "Breeze" contactless smart card fare collection system. The neighboring transit properties of Gwinnett County Transit, Cobb Community Transit, Clayton County C-Tran and the Georgia Regional Transportation Authority provide bus services to the suburbs that feed into Atlanta. By linking them to the "Breeze" system, commuters will be able to use a single smart card for public transportation, a major convenience for people who live and work in or near Atlanta and need to use more than one transit system to complete a trip.
Cubic has installed similar smart card-based systems in Washington, D.C.-Maryland, Chicago, Los Angeles, London and Brisbane, Australia.
Cubic Corporation is the parent of two major businesses: Cubic Transportation Systems and Cubic Defense Applications. Cubic Transportation Systems is the world's leading full-service systems provider of automated fare collection systems for public transport including bus, bus rapid transit, light rail, commuter rail, heavy rail, ferry and parking.
Every year, nearly 10 billion rides are taken worldwide using Cubic fare collection systems. Cubic Transportation Systems has delivered over 400 automated fare collection projects in 40 major markets on five continents, and offers security solutions developed specifically for public transportation infrastructure. The Cubic Defense Applications group is a world leader in realistic combat training systems, mission support services and defense electronics.
Cubic Transportation Systems is the proud recipient of the Frost & Sullivan 2006 Industry Innovation & Advancement of the Year Award. For more information about the company, please visit www.cubic.com.