Contactless Breeze blows across Atlanta's transit network
New fare collection card launches to speed commuters through MARTA system

By Andy Williams, Contributing Editor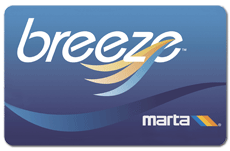 Nearly six years in the making, the Metropolitan Atlanta Rapid Transit Authority (MARTA) is beginning to phase in a contactless fare program to replace its existing magnetic ticketing and token-based system. What's more, it's the first U.S. system to deploy limited use smart card paper tickets.
"We partially rolled it out last December when we opened our first station as a pilot," said Neil Poling, program manager of the Breeze project, the name for the card. "We worked out any kinks. Luckily, we had very few and June 30 we finished our last station. Our phased rollout is beginning in mid-September."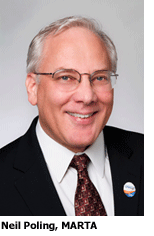 As with any project of this magnitude, a phased rollout was the only way to go. MARTA expects to issue some 300,000 cards in the first year. Some of the first to have access to the system were the "half-fare" and "para-transit" users, those with special needs. "About 25,000 were issued permanent plastic cards," said Mr. Poling.
4,500 employee cards have also been issued. "We've been testing the system with our employees. They're a small, manageable population and these are the ones who will have close contact with our customers," said Mr. Poling.

The birth of Breeze
Breeze got its actual start six years ago. "It stared as a very minor process," said Mr. Poling. "We decided we needed a fare collection system and we went from there." Once Breeze was ready to fly, MARTA evaluated solution providers. In October 2003, San Diego-based Cubic Transportation Systems was selected.
Mr. Poling calls MARTA the systems integrator for Breeze and Cubic the equipment supplier. To date, bus fare boxes and rail fare gates have been deployed. In the next month readers will be installed on the special needs buses.
Limited use contactless paper tickets can be obtained from vending machines and the full-fledged smart transit card can be reloaded at the same machine.
"We're using the paper tickets heavily during the transition and in the future they'll be available for visitors," said Mr. Poling.
Cubic's Randy Wallace, program manager for the MARTA project, said MARTA previously used a magnetic ticketing and token-based system.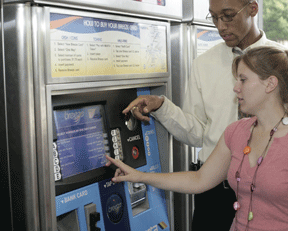 "The system Cubic installed for MARTA will be the first system in the U.S. to employ lower cost, limited use smart cards." The project is also the "first integrated, 100% rail, bus and parking smart card deployment in transit," added Mr. Poling.
Two types of chips are being used in the Breeze project, both Philips MIFARE products. "The paper based card with limited function has the MIFARE Ultralight chip and we have contracted with three different suppliers, France's ASK, Britain's Magnadata, and Germany's G&D," said Mr. Wallace.
"The full featured card," said Mr. Wallace, "is built around the MIFARE Classic chip and all of these will be supplied by ASK."
The limited-use paper ticket has very little memory, less than 100 bytes, said Mr. Wallace. "The MIFARE Classic we are using as the permanent card has 1 thousand bytes (1K) of user memory."
In addition to the vending machines and fare gates, Cubic also supplies MARTA with "software, computer networks, communications, high-speed smart card encoding machines, sales terminals for customer agents, parking equipment, bus fare boxes, and multi-language ticket vending machines that issue the smart card," said Mr. Wallace. "Cubic is also providing innovative customer service features including credit-debit payment, Internet-based ticketing, autoload (the ability to automatically load value onto the card), and electronic transit benefits delivery."
"Breezing" through ticketing and fare collection options
"Right now, the card contains a stored value (for use on a per trip basis)," said Mr. Poling. But it can also contain stored trips. "You can put 10 or 20 trips on the card via the vending machine. The third category is monthly or weekly passes or (for limited use) visitor passes."
There is also "balance protection" for the permanent card. "If you lose the card, its value can be transferred to another card." Lost cards are "hot listed" once MARTA is notified. There is no balance protection with the paper ticket, though.
MARTA has around "300,000 unique customers," thus the 300,000 first-year card issuance number.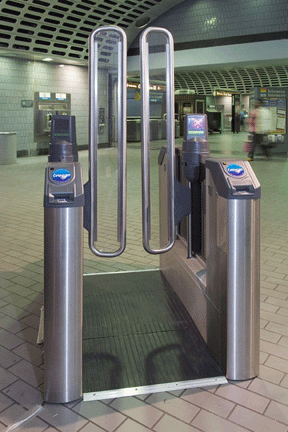 According to Mr. Wallace, the original contract orders for the cards were 1.2 million for MIFARE Classic and 6.9 million for the Ultralight cards. A change order earlier this year upped the Ultralights to 12 million.

Breeze's future development
There are plans to expand the card to other areas of Georgia. The Georgia Regional Transportation Authority "is working out agreements so the Breeze card can be used throughout the region," said Mr. Poling. One other county in the area has "signed an agreement to make an integrated system. Two other metro Atlanta counties are close to signing their agreements with MARTA. The Atlanta airport has also had discussions about using the card for airport parking and transit."
Mr. Poling, who is chair of the American Public Transportation Association's Fare Systems and Program Committee said "one of the disappointments in the whole smart card deployment efforts with MARTA and across the country has been the reluctance of banks and card associations to become involved. There have been a lot of promises and a lot of discussion from banks on where we go with stored value, but it's never comes to fruition. When we got into this, we were very excited about the possibilities, becoming partners with banks and card associations, but they've been extremely cautious about getting involved. So we're on our own."
Concerning e-purse possibilities beyond the transit environment, Mr. Wallace said: "Right now the card is used for fare ticketing and it does have a transit purse holding a cash value for use in transit applications. (As for) an e-purse that can be used for any purchase from participating merchants and vendors … we don't currently support this function."
Concludes Mr. Poling, "(with) a project of this magnitude, you'll always have problems, but we've had far fewer problems than I thought we would ever have. We're getting customers used to the new fare media and we're very close to being on schedule." As for customer feedback, "(it) has been extremely positive. Riders love the fact there is a wide variety of fare programs on one card."
About MARTA:
MARTA was officially designated an authority in 1965 by the Georgia Legislature, but it wasn't until 1972 that MARTA was in a position to purchase the Atlanta Transit System and take control of the area's primary bus transportation system. Through the 1970s, MARTA received grants of more than $800 million from the federal government for planning, design, land acquisition and construction of a rapid rail system which opened in 1979 and by 2000, it had carried more than 3.5 billion riders. Today, MARTA operates 560 buses and a rail system with 48 miles of track, said Mr. Poling.