Atria Books publishes first NFC-enabled 'smart' book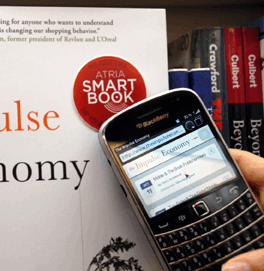 Atria Books has announced the release of the company's first "smart book," a physical book tagged with an NFC chip that provides the reader with additional content.
According to Atria, 1,000 copies of Gary Schwartz's The Impulse Economy will hit the shelves with a smart book sticker, which readers can tap with their NFC-enabled phones to receive book-related content via their mobile Web browser.
Fittingly, Schwartz's book addresses the ways in which mobile technology is changing shopping habits and addresses how retailers can take advantage of the coming m-commerce revolution.
"Proximity marketing solutions like NFC will allow for seamless and frictionless interactive experience, whether this is for interactive content on your phone or mobile wallet commerce opportunities," said Schwartz. "This new breed of consumer is using the mobile phone in the physical store to select products, research purchases, and act on content."
According to Atria, an imprint of Simon & Schuster, the smart book solution can also be embedded into a book cover or a paper bookmark.
"The smart book allows the physical book to become interactive for both the book buyer and the book browser," added Judith Curr, executive vice president and publisher of Atria Books. "The goal is to engage the consumer and start a permission-based two-way relationship that may lead to the sale of this book or further sales in this category of interest."