BlackBerry 7.1 OS update delivers NFC content sharing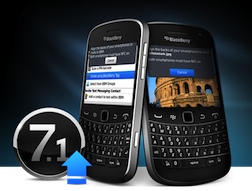 Research In Motion has officially launched BlackBerry 7.1 OS, the latest upgrade to its smart phone operating system.
Available today on BlackBerry App World, BlackBerry 7.1 offers a new content sharing application for NFC phone users called "BlackBerry Tag." According to RIM, the app allows users to swap contact info, documents, photos, URLs, and invite friends to BBM by simply tapping their NFC-enabled handsets together.
RIM says BlackBerry Tag users can also leverage the app to pair their BlackBerry smart phone with an NFC-enabled Bluetooth device.
BlackBerry Tag can be used on several NFC-enabled BlackBerry models, including the Curve 9350, 9360, 937 and Bold 9900 and 9930 handsets.
The 7.1 update also enables users to turn their handset into a mobile hotspot that can be shared by up to 5 Wi-Fi-enabled devices (including laptops and tablets), as well as make Wi-Fi calls that don't count against their purchased airtime.
Other new features include an upgrade to BlackBerry Traffic that provides voice-guided turn-by-turn directions, more icons and options on BlackBerry Messenger, and new offers on BlackBery Travel, including hotels, car rentals and airport transportation services.
"BlackBerry 7 delivered a next-generation platform for our customers around the world and the range of software updates announced today build upon the strengths of that platform to further enhance the mobile experience and make life easier, from managing daily tasks to planning big adventures," said Mike Lazaridis, President and Co-CEO at RIM.
Cick here for a complete list of updates.