BlackBerry smart card reader achieves FIPS certification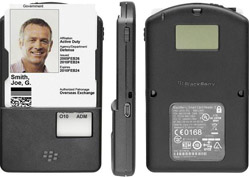 Research In Motion's BlackBerry Smart Card Reader has received FIPS 140-2 certification level 3. This Federal Information Processing Standard (FIPS) designation is the highest received to date by any wireless smart card reader on the market and signifies that the product meets advanced security standards such as tamper evidence and self destruction of critical security parameters if the device experiences a breach.
The BlackBerry Smart Card Reader works with government-issued personal ID cards as well as ID cards from high-security organization.
The reader itself is light enough to be worn on a lanyard, and when an ID is inserted into it, the reader uses two-factor authentication for secure access to BlackBerry smart phones, desktop computers and facilities. When an ID is not detected, these products automatically lock.
The National Institute of Standards and Technology manages the FIPS certification program. FIPS certification is used for programs like the U.S. Department of Defense's Common Access Card program and the Homeland Security Presidential Directive 12.