Brazil cuts down illegal logging in the Amazon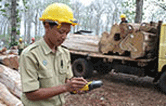 Trees in the Amazon rain forest are being equipped with microchips to record data and cut down on illegal logging, according to a story on Reuters.
The microchip attached to each tree's base holds data about its location, size and who cut it down. It gives vital information on the tree's history from the point it was felled to the sawmill that processed and sold the wood.
The tagging system enables buyers to ensure the wood bought from illegal loggers responsible for destroying huge areas of the forest each year.
The chips also curb corruption that allows illegal loggers to acquire phony certifications and ensure that the tree actually came from where it was supposed to come.
Read more here.